Guided Tours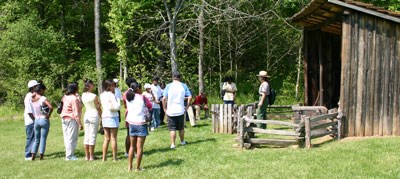 RANGER GUIDED WALKING TOURS
Reservations are required in advance for a ranger guided walking tour for groups with a minimum of 10 people. Please make reservations as early as possible as tours are dependent upon staffing and weather conditions since much of the tour is outdoors. Larger groups are required to make reservations in advance to ensure the confirmation of a tour.
Walking tours generally last 30 minutes to one hour and we also have a 12 minute introductory video in our auditorium. Visitors can also enjoy the interactive exhibit, "Born Here, Freed Here," in the park visitor center.
To make a reservation, call the park at (540) 721-2094. We suggest that you book your selected tour date as far in advance as possible. There is currently no fee for the program.


Last updated: August 1, 2016