Clash of the Titans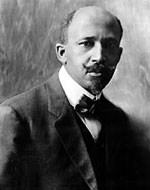 "In the final test, the success of our race will be in proportion to the service that it renders to the world. In the long run the badge of service is the badge of sovereignty."
Booker T. Washington
Although Booker T. Washington was a nationally respected African American leader, there were many of his own race who opposed his views, especially the prominent African American leader, W.E.B. Du Bois.
While visiting the birthplace of Booker T. Washington, students explore the question of how one is influenced by one's environment. Students contrast and compare Washington's experiences as a young man to the experiences of his most notable critics and one of the founders of the National Association for the Advancement of Colored People (NAACP), Du Bois.
Students analyze, compare and contrast the philosophies, speeches and written documents of these leaders during the turn of the 20th century –an era plagued with lynchings and movements to disenfranchise African-Americans. These comparisons provide insight into what motivated these two African American men to develop the opposing social philosophies that propelled them into leadership roles at the beginning of the 20th century.


Last updated: February 26, 2015