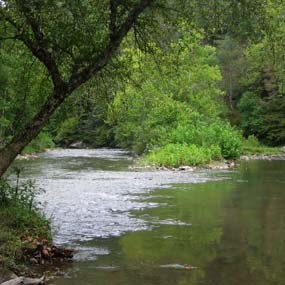 The park is open year round. The aerial tram at Pipestem Resort State Park operates from May through October. From November through April, when the aerial tram is not in operation, the only access to the Bluestone River from Pipestem Resort State Park is by hiking the River Trail, a strenuous rim to river trail dropping 1,000 feet in elevation.

Access via Bluestone State Park and Ellison Ridge Road is open year round. Please be aware that Ellison Ridge Road is an unpaved road that may not be well maintained in winter and is not advisable to travel on in wet or snowy weather.

At present there is no National Park Service visitor center at Bluestone National Scenic River. The park is administered through nearby New River Gorge National River. For information and for the park passport cancellation stamp, visit Sandstone Visitor Center, located on I-64 exit 139, open daily from 9:00am to 5:00 pm (every day except Christmas, New Years, and Thanksgiving).