Hiking

The Bluestone Turnpike Trail is a 9.5-mile moderate hiking trail that follows the path of an old riverbank road. Farmed and timbered until the 1940's, this forested area now has a great diversity of plants and river wildlife. Remnants of the area's human history remain, waiting to be discovered by observant hikers.
The Bluestone Turnpike Trail connects on the north end with Bluestone State Park's campground road, just past the Old Mill Campground. On the south end at Pipestem Resort State Park, this trail connects with the Farley Loop Trail and River Trail. These trails can be accessed from the Mountain Creek Lodge, at the base of the tram at Pipestem Resort State Park.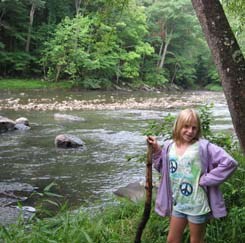 Hunting is permitted during certain seasons. Hikers are advised to wear blaze orange during these periods. This trail connects Bluestone State Park and Pipestem Resort State Park. These state parks also offer good hiking trails.

Check out the Ranger Programs page to find out more about ranger guided hikes in the park.
Also look at the Hiking Safety Page before taking a hike at Bluestone National Scenic River.
Last updated: June 20, 2014