The Lost Town of Lilly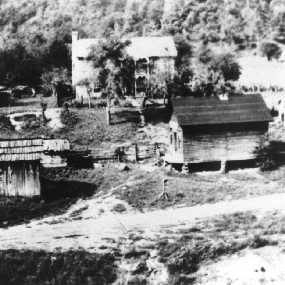 Lilly was one of the first Appalachian settlements in present day West Virginia, settled by Robert and Frances Lilly in the 1700s along with Josiah Meador and their families. The Bluestone area was used by Native Americans before this time because of its abundant supply of natural resources. The area offers a wide variety of flora and fauna that is still widely enjoyed and explored today.

Robert Lilly and Josiah Meadors chose the area to carve a new way of life for themselves and their families. They moved from Dublin Pulaski, Virginia, to what is present-day West Virginia. Both families settled on the Bluestone River, where they survived by subsistence farming and logging. It has been said the families arrived with a bible, an axe, and a gun and created a new life on wild and rugged land. Lilly soon became home to over thirty families.
Lilly continued to thrive until the mid 1900s when the construction of the Bluestone Dam began. Construction calculations predicted Lilly would be underwater, and residents were forced to move. Cemeteries were exhumed and moved to new locations. Buildings, churches, and homes were all destroyed or moved to new locations. A few of their foundations still remain, offering a tangible link to the families who once struggled to survive here. While walking through the old settlement of Lilly today you can still see foundations of old structures scattered throughout the area, or a coal bucket laying on the ground offering one of the only clues that a once thriving community was based here.

From the original settlers a great family emerged. The Lilly family is one of the largest families in the world. Family members come each year to celebrate on the Lilly Family grounds in Flat Top to enjoy the memories and bond close to the original settlement of Lilly. The Lilly reunion began in the early 1900s and still continues today, being recognized by the Guinness Book of World Records for the largest family reunion in the world. Lilly is still a beautiful sight that can be explored and will be preserved for future generations.
Last updated: February 26, 2015