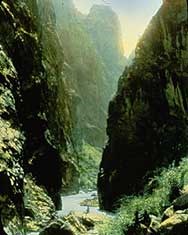 "When about noon, we reached the mighty jaws past which there was to be no escape, a feeling of nervousness and dread came over me for the first time. Right then I made the only discouraging speech that was made during the entire trip, and I said to Torrence. 'Will, your last chance to go out is to the right. You can make it there if you wish, but if we cross the river at this point there can be no return; we must go on.'"
Those words, uttered by Abraham Lincoln Fellows, revealed feelings of awe and respect for a place that tested his mettle and challenged his courage. He had been studying the canyon for months, and had been a hydrographer (water engineer) for years. He hired Will Torrence, of the 1900 expedition, and they were standing a short distance above the Narrows, where the canyon walls squeeze to 40 feet, and the exact spot where that earlier trip had been abandoned.
Making Some Changes
The trip in 1900 generated statewide and national interest in the tunnel, so Fellows was directed by people in Washington, D.C. to see if the tunnel was really possible.
Like the expedition of 1900, accounts differ and writing that occurred during tunnel construction probably distorted, condensed and romanticized the trip. The account here draws primarily on the texts of lantern slide shows developed by both Fellows and Torrence that they shared with audiences years later.
Unlike the trip in 1900, this trip was conducted in mid-August to take advantage of summer heat, while the river level might still be very low. In addition, they packed lightly. Giving up the idea of boats, they acquired an inflatable rubber air mattress for floating and rubber bags to hold cameras instruments, rope and other equipment, including... "longies so we would have something dry to sleep in at night." On August 12 they rode the train to Cimarron and after getting off, "A woman was heard to remark that she was glad the conductor had put those two tramps off the train."
They made their way downstream rapidly, but "easy walking was never to be found." Plus, "It was necessary to swim through deep water..." fed by melting snow. The water temperature was frigid. "Upon one occasion I [Fellows] was so unlucky as to fall about 20 feet, but so fortunate as to land in a bed of wild gooseberry bushes, which kept me from breaking any bones, but some time picking thorns out of my clothes and body."