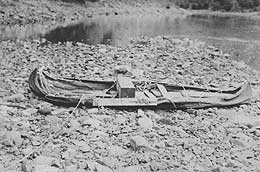 A crowd from Cimarron came out to watch their departure from the railroad bridge. Kolb set out, with cameras ready. Nearly out of sight of the crowd was a large "pinwheel" rapid, or a perpendicular whirlpool. Running the rapid like "a bronc at the end of a lasso," he stayed with it, until the river turned him over. Likewise for the second boat and a small life-raft they had brought along. In spite of failing "to cover ourselves with glory," and "being out one boat, a life-raft, trunk, camp bed," and quite a bit of flim, Kolb remained upbeat about the adventure.
They laid over a day at the Black Canyon Hotel in Cimarron due to heavy rains, but getting away early, before sight seers could gather, they portaged around the rapid that had subdued them two days before. They successfully negotiated the river that day, but the next "was not our day of days." The rapids became heavy, and Kolb yearned for the heavy wooden boats that he used on the Colorado . It was difficult, with the high river flow, to cross the river. The current was too swift to swim, and the one small canvas boat made crossing slow and cumbersome. It began to rain, and Stone, who had been ill before the trip, developed a high fever of 102 degrees.
They made their way downstream a little further working along the shoreline, until the remaining boat swamped. The slow pace, unsuitable boat, Stone's fever, and rotten weather led them to abandon the trip. They hiked out the next day, and folks from the Thompson Ranch drove them into town.
A Second Try
Kolb and one of his partners went back into the canyon on the East Portal Road, which leads to the Gunnison Tunnel, and worked his way upstream to get the boat and supplies. After fixing the boat he rode it down river, lining it around rapids when needed. "At a side canyon called Pool Gulch, the walls were jagged and sheer; great fallen boulders all but dammed the torrent. I had lots of trouble here." After making it to the tunnel, he decided to wait for a lower stage of water and the wooden boats to be sent by Stone.