Lesson Plan
It Takes A Village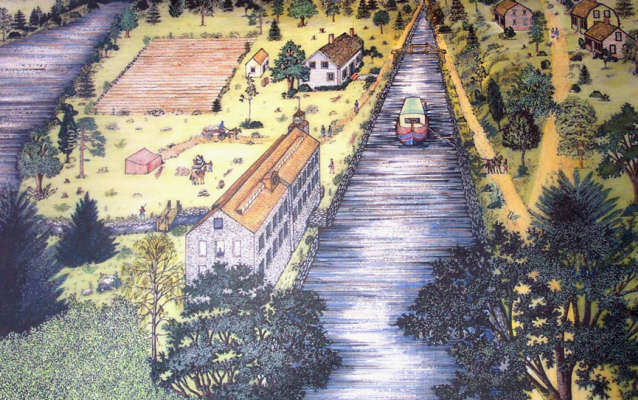 Grade Level:

Second Grade-Sixth Grade

Subject:

Agriculture, Engineering, Entrepreneurs, History, Labor History, Textiles, Transportation

Duration:

3 to 4 hours, can be done over several days

Group Size:

Up to 36

Setting:

classroom
Overview
Students will understand that the Blackstone River Valley experienced a unique form of rural industrialization called the "Rhode Island System of Manufacture" after Samuel Slater built the first textile mill in Pawtucket in 1790. Early mill villages, as typified by Ashton Village between 1810 and 1870, included essential components which led to their success and proliferation in rural towns along the Blackstone River Valley.
Objective(s)
Content Objectives/Outcomes:
Students will be able to:
·         Define the Rhode Island System of Manufacture model and describe its elements
·         Describe mill village life from the perspective of its different social classes
·         Develop questions to guide further research on the Rhode Island model of industrialization
Language Objectives/Outcomes:
Students will be able to:
·         Read and interpret primary source documents such as maps, photos, paintings, ledgers, account books, etc. to draw conclusions about their historical, social, and cultural significance
·         Participate in partner and small group discussions during examination of source documents
·         Summarize information and share interpretations with whole class audience
Materials
For higher resolution copies of key documents and images for this lesson click the links below.
Park Connections
This lesson is based on the Old Ashton/Ashton villages located in Lincoln and Cumberland, RI. Much of the Lincoln portion of the village is now within the Blackstone River State Park, run by the Rhode Island Department of Environmental Management. DEM operates the Captain Wilbur Kelly House Museum, which is open to the public for free daily from April through October. To set up a visit for you class to the Kelly House, please call the rangers there at (401) 333-0295.

Additional Resources
To view or download 30 minute videos that help teach this topic, click the links below. Note, these are very large files and could take several minutes to download.

Along The Blackstone Episode 12: Mill Life
Runtime: 29:42 - Copyright: July, 1995
Were the mill owners of the Blackstone Valley the harsh, penny-pinching ogres we associate with a Charles Dickens novel or were they benevolent father-figures who genuinely cared about the welfare of their workers? Mill Life will take a look at the Rumford Chemical Company, Village of Rumford, East Providence, RI and the Draper Manufacturing Co. of Hopedale, MA as we examine workers and mill owners.
"Mill City & Mill Village: Lowell & the Blackstone Valley, America's Industrial Story" - Episode #36
Runtime: 29:41 - Copyright: April 1998
America's industrial story can be told from many perspectives.Big corporate mills that dominate their urban landscape to rural 4-story mills tucked alongside a stream that generated power to run its machines. There are two National Parks here in New England who tell, from very different perspectives, the story of America's journey towards industrialization.

Farm to Factory - Factory to Farm Episode #62
Runtime: 30:00 - Copyright: April 2005
The history of the Blackstone River Valley's role in America's journey towards industrialization is quite significant - it all started here in the Blackstone Valley. It was here where the workers began that migration from the farm to the factory. The daily work schedule was no longer dictated by the movement of the sun, but by the clanging of the factory bell. It was a change that the workers had to adapt to, but there was another change as well, the development of the Factory Farm. After all mill workers had to eat too
Last updated: February 26, 2015