River Run Descriptions
Peters Bridge to Brewster Bridge
Distance 6 Miles
Difficulty I-II
Average Drop 7
Use Season W-Sp
When there is enough water, this section makes a very nice half-day trip. the valley walls are close together and quite steep as the Clear Fork begins to cut into the Cumberland Plateau. Laurel thickets are common in this heavily wooded valley. The river is characterized by long pools and short, quick, easy drops.
Brewster Bridge to Burnt Mill Bridge
Distance 10.5 Miles
Difficulty II-III
Average Drop 12
Use Season F-W-Sp
This is a very beautiful section featuring numerous boulders in the streambed, precipitous bluffs, and moderate rapids. The only named rapid in Decapitation Fork, formed where the stream goes under an undercut rock. Though not particularly dangerous, it is rather striking and requires some maneuvering skill to negotiate.
Burnt Mill Bridge to Leatherwood Ford
Distance 11 Miles
Difficulty III-IV
Average Drop 20
Use Season F-W-Sp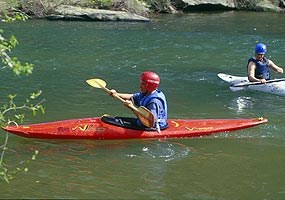 This is the run usually made by paddlers wishing to float the gorge. The trip begins deceptively easily, but quickly develops into serious, powerful whitewater which is challenging to even expert and advanced paddlers. Emergency access exists at the O&W trestle, Pine Creek and by a steep footpath at the Honey Creek Pocket Wilderness. Numerous sheer, massive sandstone cliffs are visible on the run. The scenic values of the gorge are of the highest order.
White Oak Bridge to Burnt Mill Bridge
Distance 11 Miles
Difficulty II
Average Drop 13
Use Season W-Sp
White Oak Creek is a scenic 5.5 mile run past numerous rockhouses and bluffs as it heads for the Clear Fork River. The last half-mile of White Oak Creek has some nice Class II rapids. The 5.5 miles of Clear Fork river to the takeout are likewise beautiful and have no major rapids.
New River Bridge to Leatherwood Ford
Distance 15.5 Miles
Difficulty I-IV
Average Drop 14
Use Season F-W-Sp
New River, for its first six miles is a placid stream, the drop in the last two miles picks up considerably and some Class II-III ledges appear. The last 7.5 miles are run on the Big South Fork River which contains several Class III-IV drops. The trip will require a long day of paddling.
Zenith Mine to Leatherwood Ford Bridge
Distance 8.5 Miles
Difficulty II
Average Drop 22
Use Season W-Sp
North White Oak Creek in an enjoyable seven mile run of moderate difficulty down a 400 foot, strikingly beautiful gorge. Boulders of assorted shapes and sizes are strewn along the way. Rapids are short and may be rather tricky, so good maneuvering ability is necessary.
Leatherwood Ford Bridge to Station Camp or Blue Heron Mine
Distance 8 or 27 Miles
Difficulty I-II (Angle Falls & Devils Jump IV)
Average Drop 5
Use Season F-W-Sp-Early Summer
The stretch from Leatherwood to the Blue Heron Mine is a two day run combining moderate paddling difficulty with spectacular scenery. Angel Falls is two miles below Leatherwood Ford and should be portaged on river right at any level. Devils Jump is located just above the take-out and should be portaged on river left. The portages are not signed, be sure you are familiar with the landmarks which are associated with the approach to each rapids.
Blue Heron Mine to Yamacraw Bridge or Alum Ford
Distance 4.8 or 12.2 Miles
Difficulty I-II
Average Drop 5
Use Season F-Sp-Summer
The run from Blue Heron to Yamacraw is a popular canoe trip throughout the paddling season. In the fall the colors make this an exceptionally beautiful trip. The 7.8 mile trip from Yamacraw to Alum Ford is generally a flat water trip through late summer when the lake level drops enough to give the water some flow. Motorized boats may be encountered on this section of river.


Last updated: April 14, 2015