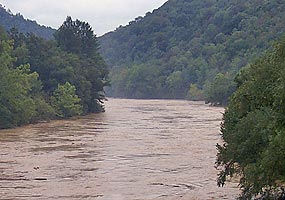 10,000 CFS: Clear Fork has rolling 4-5 foot waves for much of its length. The Little Three is a solid Class IV plus with large reactionary waves for 1/2 mile. The main gorge resembles the New River Gorge at medium water levels. Waves are huge, especially in the Big Three and the canyon sections. The canyon is very dangerous at this level because it is continuous for 1-1/2 miles with only a few eddies. The waves in the main current average 7 - 8 feet. The water is up in the brush and trees in places, thus making rescue extremely difficult and broaches a possibility. Several giant holes appear which can be extremely dangerous, e.g., Krekels (Honey Creek Rapid). Above 10,000 CFS there is a river wide hole between the EL and the Honey Creek Rapids, caution is advised. River classification: Class IV - V.

20,000 CFS: The river has a similar character to levels around 10,000 CFS. Holes become bigger and meaner. Waves begin to explode irregularly. River debris (logs and trees) become a factor. Most rapids in the gorge are over 1/4 mile long. Swims are likely to be life-threatening to the swimmer and the rescuer. Rescue of equipment is almost too difficult. This level is considered high flood, and much of the gorge is Class V. Walk-outs are common at this level. Overnight stays may be the result. River classification: Class V.

40,000 CFS: The Little Three has 8 - 9 foot waves. The Big Three is a mile-long Class V with continuous 10 - 15 foot erratic (reactionary) waves terminating in a river-wide hole at Honey Creek Rapid. The Canyon is a 1-1/2 mile CONTINUOUS series of 12 - 15 foot reactionary wave trains with several offset holes, one of which is 2/3 of the river wide and probably a keeper. Floating river debris is very problematic. Walk-outs are very likely. River classification: Class V plus.