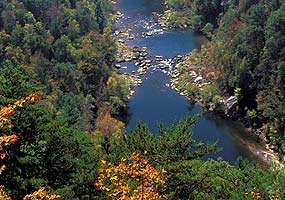 East Rim Overlook off Hwy 297 in Tennessee and Devils Jump Overlook off Hwy 742 in Kentucky, are two of many scenic overlooks where one may stand on the edge of the Big South Fork gorge and look down hundreds feet to the river below. Both East Rim and Devils Jump meet ADA standards for accessibility.
If you would like to visit the Big South Fork River, up close and personal, Leatherwood Ford is the place for you. Here, you can walk across the old low water bridge, the main bridge across the river until 1983, when the new bridge was completed. There are boardwalks along the rivers edge with benches and picnic spots and a number of trails both long and short which follow the rivers edge. If you choose to get your feet wet wading in the river, please be careful, the rocks can be slippery, currents tricky and drop-offs sudden.
The Twin Arches, the largest sandstone arches in the eastern United States are less then a mile hike from the closest trailhead. Once at the arches you can return across the top of the North Arch back to your car, you can hike down to the Charit Creek Lodge for an unforgettable nights stay in the heart of Big South Fork, or continue on to visit "Jake's Place" and hike through massive rockshelters as you return to the arches and your car.