2018 Fourth Grade Student Art Contest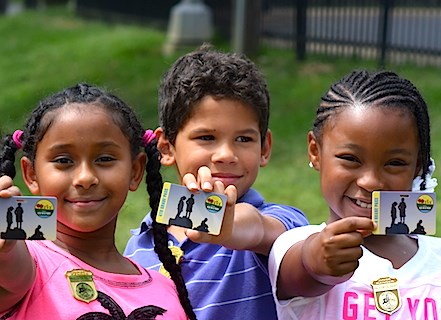 Big South Fork National River & Recreation Area invites students in the surrounding school systems of McCreary and Wayne County, Kentucky and Scott, Fentress, Morgan, and Pickett Counties, Tennessee to earn their
Every Kid in a Park Pass
.
As part of the commitment to protect our nation's unique outdoor spaces and ensure that every American has the opportunity to visit and enjoy them, the Every Kid in a Park initiative allows fourth graders nationwide to go to
www.everykidinapark.gov
and obtain a pass for free entry for them and their families to more than 2,000 federally managed lands and waters nationwide for an entire year starting September 1, 2015.
RULES
Complete an activity to learn about the Big South Fork NRRA.

On an 8 ½ x 11" sheet of white paper or cardstock, draw a picture of something you might see in the park, your favorite place to visit, wildlife that live in the park, etc. You can use paint, crayon, maker, color pencil, or pencil.

Visit www.EveryKidInAPark.gov and print your voucher. (Teachers may print multiple vouchers at once for classrooms participating.)

Submit your *entry along with the EKiP voucher to the park by April 2, 2018.
*All entry materials will not be returned.
SUBMISSION & DEADLINE
Entries must be received no later than April 2, 2018. Entries may be dropped off at or mailed to the Park Headquarters Office.
Big South Fork NRRA
4564 Leatherwood Rd
Oneida, TN 37841
Attn: 4th Grade Art Contest
SELECTION & EXHIBIT PROCEDURES
Selected entries will be unveiled at the Bandy Creek Visitor Center during the 18th annual Spring Planting and Music Festival on April 28, 2018. Visitors may vote on a "People's Choice Award" and the winning art entries will remain displayed at the Bandy Creek Visitor Center, and will be displayed on the park's official website, social media pages, and other venues.
Last updated: February 1, 2018