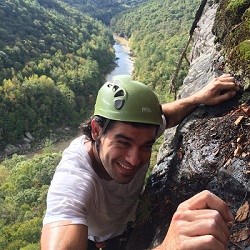 Hundreds of miles of cliff are nestled within the boundaries of Big South Fork National River and Recreation Area. For the intrepid rock climber, these sandstone bluffs harbor an enormous wealth of rock climbing potential. Although much of the rock is too loose, soft, or blank to support rock climbing as an activity, potential routes exist in abundance for those who are dedicated enough to seek them out.
As with most other activities in the park, climbing at the Big South Fork is generally defined by an element of adventure and discovery that is often not associated with more developed climbing areas.
Quality traditional routes (routes relying upon removable protection) and boulder problems may be found scattered throughout the park. For example, the cliffs that rise above O&W Road offer amazing multi-pitch traditional, and aid routes (routes in which the climber pulls upon gear) in a spectacular setting. At over 250 feet tall, the cliff directly above O&W Bridge is sometimes cited as the tallest vertical wall in Tennessee.