Burnt Mill Loop Trail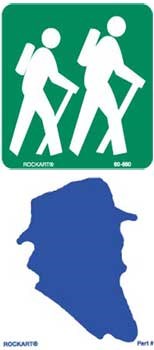 | | |
| --- | --- |
| Distance: | 3.6 miles |
| Difficulty: | Moderate |
| Cautions: | Rock Stairs |
| Connections | John Muir Trail to Honey Creek |
The Burnt Mill Loop Trail is a relatively short and extremely beautiful hike which parallels the Clear Fork River for much of its 3.6-mile length.
As you begin your hike, you may be fortunate enough to watch some adventurous paddlers begin their trip down the river, or maybe a fisherman battling wits with a wary smallmouth bass. After passing through a number of rock shelters and along some interesting rock walls, the trail will gradually climb out of the gorge.
Just 1.1 miles after leaving Burnt Mill Bridge the trail will split. Following the right fork will take you on the John Muir Trail for 5-miles to the Honey Creek Loop Trail, while the left fork will cross the Burnt Mill Road and then descend back to the Clear Fork River.
Once you reach the Clear Fork River the trail will follow the river for the next 2.1-miles back to the trailhead parking lot. Along this section of the trail you will find numerous opportunities to picnic and even wade in the shallow river.
If you do venture into the cool waters of the Clear Fork River use caution; the rocks may be slippery and the currents could be strong.
Download a map (pdf 603 kb) of the Burnt Mill Loop Trail and Trail Profile.
Last updated: March 4, 2019