Park Management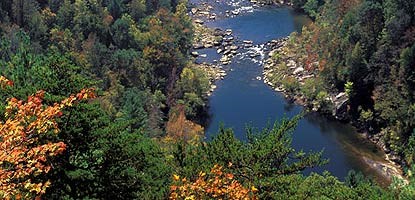 The scenic, ecologic, and historic values of the Big South Fork of the Cumberland River have created an area of unique beauty with outstanding outdoor recreational opportunities. As a natural free-flowing stream, the river offers some of the best white water canoeing in the eastern United States.
In order to protect this area, Congress directed the establishment of the Big South Fork National River and Recreation Area on March 7, 1974.
As specified in its enabling legislation, the explicit purpose for establishing the Big South Fork are:
….
conserving and interpreting an area containing unique cultural, historic, geologic, fish and wildlife, archaeologic, scenic and recreational values, preserving as a natural free-flowing stream the Big South Fork of the Cumberland River, major portions of its Clear Fork and New River stems, and portions of their various tributaries for the benefit and enjoyment of present and future generations, the preservation of the natural integrity of the scenic gorges and valleys and the development of the area's potential for healthful outdoor recreation
(PL 93-251).
Big South Fork represents the first time the concept of a National River and that of a National Recreation Area have been combined and reflects a decision that preservation and recreational enhancement are the appropriate goals for the area. Preservation will ensure that continuation of the dynamic natural processes which have shaped the landscape while yet being more responsive to outdoor recreation demand than other areas which are established primarily for preservation and natural and historical resources.


Last updated: December 21, 2016