Women's Life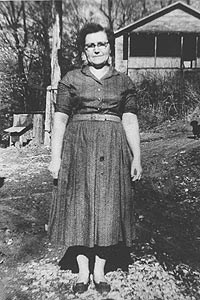 Life for women in the coal camps was often difficult and isolating. Young women growing up in the camps seldom had vision beyond marriage and family. Keeping house in a coal camp was frustrated with dust from the tipple and grime from mineworker—husband's clothing.
Nor were the women exempt from the health hazards often only associated with mining itself. Women prone to respiratory ailments suffered living near the tipple where coal dust made breathing more difficult.
A typical day consisted of preparing food for the man of the house to take to the mines and packing it up in a tin pan with water, getting children off to school, scrubbing wash, house and belongings free of the pervasive coal dust. If the wind was wrong, the wash might have to be done over as tipple dust would settle on fresh sheets.
The men's work schedules dictated women's life and work, and the daily round might begin with the husband's shift. The end of the day held more cooking and cleaning with occasional evenings devoted to mending and listening to the radio.
Visiting among the women provided the only relief from hard work and isolation. Most women who had moved from camp to camp with their father's or husband's work preferred Fidelity or Co-operative camps to Blue Heron. Not only were both of those camps larger and more accessible, but the atmosphere was more convivial.
Even the men reported that women did not visit one another as much as Blue Heron camp, and those who enjoyed it there seemed most satisfied with being alone.
Women's Life

Recording from the Women's Life ghost structure
To continue your visit through the Blue Heron Mining Community, choose the next "
ghost structure
" you wish to visit.


Last updated: April 14, 2015