Train Depot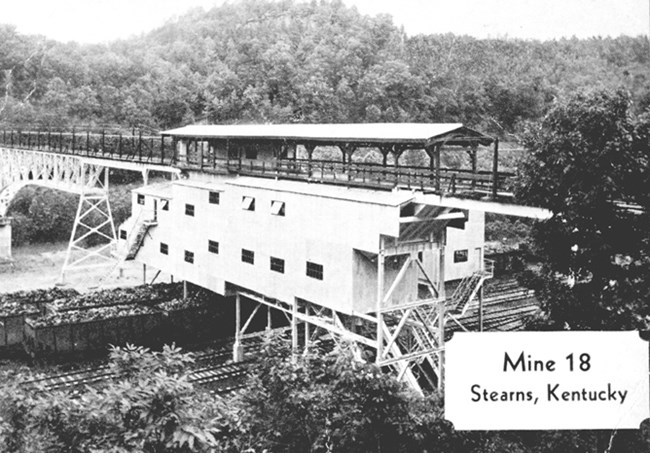 The Stearns Company
The Stearns Company came to this region in 1902. In 1975 it left the coal business by selling the "Justus" mine to Blue Diamond. Though still a presence in the area, the Stearns' lumber and coal businesses rose to importance and declined in this region in less than 75 years.
Coal camps owned and operated by the Stearns Company in the region have even shorter histories. In fact, it is the way of coal camps in the nation to be transient, coming into existence when new drift mines open or new seams are discovered, and disappearing when the coal runs out. Like the lumber camps before them, coal camps have an assured short life.
At Blue Heron, only the ghostly remains of the metal coal tipple are left of the original structures on the site where once there were 22 houses, a church, school, store, bathhouse and other mining related buildings.
In a region where thousands of people were once occupied in a way of life, there's virtually no physical evidence that way of life ever existed. Coal mining was sustenance for many and supplied a vital product to "a nation that needed it".
It is fit then to have a center to interpret that way of life here in Big South Fork National River and Recreation Area and at Blue Heron. Here the tipple remains remind us of the importance of coal mining in the area and of the way of life that so many who worked and lived in the coal camps shared.
There were no remaining houses or structures here to restore. Because a coal camp is meant to last only so long as the nearby coal lasts, a reconstruction would not tell the Blue Heron story as well as making a place where the voices of those who lived and worked here can tell you the story first hand.
Here too, you can read about their thoughts, values, and see some of the simple objects essential to coal camp life at Blue Heron from 1937 to its closing in 1962.
A standard reconstruction of a coal town would not tell the story of Blue Heron, its existence and its passing as well as those who lived here can tell it. To be authentic, that very reconstruction would have to be built as the original coal structures were to last under 50 years.
Instead, what remains here are the shapes of some of the structures that once were at Blue Heron. Protected under those roofs are the snapshots people took of each other when they lived here, and the history and feeling of a place in time. Here, too, are the central voices of Blue Heron people preserved together to tell you what is was like to live in a coal camp when it was still bustling with people, coal cars and the noisy, dusty, rattle of the tipple, now so silent. By these, a way of life is preserved and remembered.
Introductions

Audio recording of Those Who Knew Blue Heron.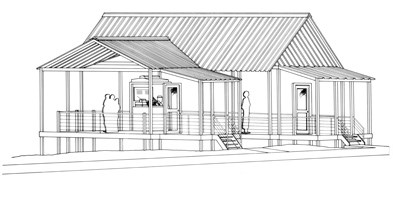 Last updated: April 14, 2015