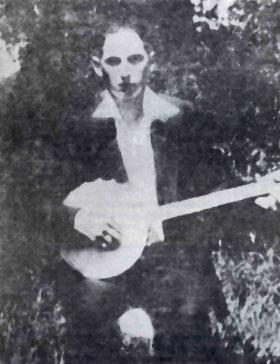 The chain of events that was set in motion by this simple act would impact many people. Sometime after arriving at the camp, Jerome ran into his uncle, Albert Boyatt. For reasons still open to speculation, Jerome, a wiry young man of twenty-two began to argue with Albert, a man of about sixty. The argument developed into a fight. In keeping with company policy, the superintendent of the camp, J.W. Tellachow, did not tolerate fighting and disorderly conduct and wanted the men arrested. Tellachow gave specific instructions to the train engineer to hold the train in camp to prevent the young men, who were by now in a box car, from leaving. Although the camp was remote, it did have a telephone connected to the company town of Stearns. Because the camp was located in Pickett County, Tennessee, the call was routed to Sheriff George Winningham in Byrdstown. Because of the condition of roads in that day and due to the remoteness of the camp, it took considerable time for Sheriff Winningham and two deputies – one of which was his son, Floyd, to reach the scene, arriving near dark.
The sequence of events that occurred next is still debated. Jerome Boyatt carried a .45 semi-automatic pistol and was known to be an excellent shot. Some witnesses have said the Sheriff identified himself as a lawman and ordered the men inside the boxcar to surrender. Other witnesses stated that Deputy Floyd Winningham fired into the boxcar first and without warning. Some others have said that Jerome fired at the lawmen first. There is also the belief among some persons that Jerome only returned fire in self defense, unaware that he was facing lawmen. Regardless of how the events unfolded, the results were devastating. Deputy Floyd Winningham was killed immediately, and Sheriff George Winningham died the next day in a Nashville hospital. Jerome's cousin Ted Boyatt, who was in the boxcar with Jerome, was wounded.
Immediately after the shots were fired, Jerome escaped into the woods surrounding the camp and made his way to No Business Creek where he lived as fugitive for the next month. George Winningham and his son were well known in the surrounding counties, and the reaction to their deaths was immediate. A reward was offered and a large posse was formed to locate Jerome and bring him in. The posse spent considerable time looking for Jerome in and around the No Business community, where he was believed to be hiding.
In an attempt to get information on the young man's location, Jerome's parents and younger siblings were taken from their home on No Business Creek and held in Byrdstown. After several days, Jerome's father, Ransom "Ranse" Boyatt was allowed to return alone to the family farm. Shortly afterwards he was found dead there. The Scott County Coroner ruled that he died at the hands of persons unknown. Many people speculated that he had been hanged for not revealing his son's whereabouts.
Because of his father's death and perhaps fearing further violence against his remaining family, Jerome turned himself in on May 22. He surrendered to a Scott County Deputy and was taken to the Scott County Jail in Huntsville. Jerome was incarcerated with other prisoners until the night of June 8. The Scott County Sheriff was said to be away from the jail that night investigating another incident, leaving only his wife and the jailer. Near midnight, Jerome and another prisoner, Harvey Winchester, (accused of killing a lawman's son) were taken by force from the jail by approximately twenty-five masked men. The two were loaded into cars and taken to a wooded area near Helenwood, Tennessee, just off Highway 27. Their bullet-riddled and tortured bodies were found the next day.
Five men died from this tragic set of events: George and Floyd Winningham, Ransom and Jerome Boyatt and Harvey Winchester. No one was ever charged in the murders of Ransom and Jerome Boyatt or Harvey Winchester. Neither Jerome Boyatt nor Harvey Winchester had a chance to stand trial. In some circles today, this saga is still debated and the Boyatt and Winningham families have been greatly affected by the tragic events of over seventy years ago.