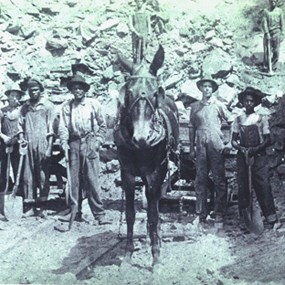 Who were the invisible people? They were real human beings that were not recognized by most other people as being important. They were viewed as insignificant and thus, were "invisible." You may wonder why. It was because of the color of their skin. These "invisible people" were African-Americans. They contributed to the Big South Fork area, and are seen through images left behind.

African-American Occupation

The first African-Americans on record in this area were slaves that were owned by large landowners or manufacturers of various commodities. One of the first African-Americans of note on the Upper Cumberland Plateau, if not the first, is a boy named Surk, who is referenced in 1820, by Capt. John W. Tuttle (1939) as a slave from Cumberland Gap. The lack of lucrative plantations in Scott County was one reason there was no intensive, historic occupation by African-Americans slaves. This is not to say that there were no slave-owning landholders in this area at this time. According to the United States Census of 1820, there were 28 slaves living within the Big South Fork region. By 1850, slaves counted in the census numbered 39. This data indicates a steady and growing population of slaves living in the area before the Civil War. At the time of this conflict, according to some oral traditions, there were only five men who owned slaves in Scott County.