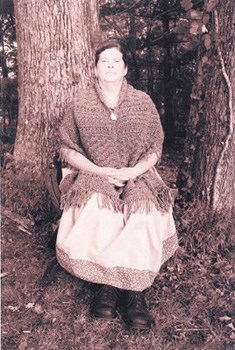 INTRODUCTION
Meet Lizzy Waters, a fictitious lady who lived in Big South Fork country during the Civil War. She has "stories that will make your skin crawl because they are the truth as best I can recall." This program commemorates the 150th anniversary of the Civil War, which began in 2011. It covered events that actually took place on or near the land that became Big South Fork National River and Recreation Area.
The purpose of this skit is to show how the Civil War affected many people's lives, not just folks living in the vicinity of the large battlefields. Skirmishes and guerrilla warfare happened in remote areas and devastated families and their property.
Moon-shining was a common means of making money from corn. The skills involved in distilling were often passed down from father to son. Because it was a part of the culture and folklore on the Cumberland Plateau, I thought it was important to include information about it in the dialogue.
This skit can be specifically adapted for a particular location. With research, local stories and events can be "plugged in" to create a program about your town, community or park.