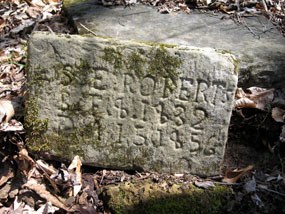 There are a total of 58 cemeteries located throughout Big South Fork National River and Recreation Area. Some of these are very old and no longer receiving burials, while others are current cemeteries. Twenty-six of these cemeteries are private, family-owned cemeteries and many of these are actively used to this day for burials.
The remaining 32 cemeteries are federally owned. These cemeteries were inadvertently incorporated into the park when the Corp of Engineers was directed to purchase the land for Big South Fork. Many land owners sold their property without knowing that a cemetery existed there and in turn it became part of the park. Many of these cemeteries have few or single stones. In many cases no owner or record for these cemeteries can be found.
The earliest historic burial found within Big South Fork National River and Recreation Area is located in the No Business Cemetery. This cemetery is on a small ridge on the north side of No Business Creek, about halfway upstream from its confluence with the Big South Fork of the Cumberland River. A small stone engraved with "R.S. 1848" may represent the grave marker for Richard Slaven. Richard Slaven may have been the first person to settle on No Business Creek.
The most recent burials take place at many active, private cemeteries located within the boundary of the National Area. All of the cemeteries in the park have remarkable stories associated with them. Read about some of these
cemetery stories
(1.40 MB).
Cemeteries can tell us stories about past life in this area. You can learn about family names,
burial traditions
(2.16 MB), linguistics, art, geology, and even follow patterns of sickness and epidemics that occurred. Botanical studies can be done of the plants found in cemeteries also. Compare the style of the stones. Look at the different prose on them. Study headstones for their artistic motifs with religious symbolism. Different spellings and names are seen from cemetery to cemetery. See if you can identify the first person buried in each cemetery you visit. Who was the youngest? Oldest? Was there an epidemic of sickness that caused many to die at the same time? What type of stone was used for the graves? What kinds of plants are growing there? See if you can see stories emerge before your own eyes.
When you visit any of the cemeteries within the park please respect these areas. The fences and gates are there to protect it. You may enter into the area. Please remember to shut any gates when you leave and do not deface the stones or disturb anything within the boundaries of these cemeteries.