Donate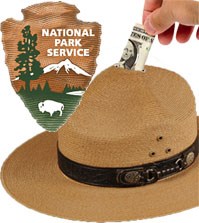 Your interest in making a donation to Big South Fork National River and Recreation Area is deeply appreciated. We could not attain excellence without the generous support of individuals and organizations like you.
Your gift will be used for interpretation, research and enhancing visitor experiences. No administrative costs are deducted from your gift. Your check will be deposited in a government account and the full amount will be spent as you identify. Government accounts are non-interest bearing.
Visitors to the park can give direct cash or check gifts through our donation boxes located in the Bandy Creek and Blue Heron visitor centers or donate
online
. Unlike all other fees, 100 percent of donated funds stay in this park.
To give directly to Big South Fork NRRA, please send a check or money order payable to "National Park Service." Send to:
Big South Fork National River and Recreation Area
4564 Leatherwood Road
Oneida, TN 37841
Please also include a short letter specifying the nature of your gift and, if desired, to what purpose or project you intend the funds to benefit. If you are making a donation in someone's honor, please include the name and address of that person and they will receive an acknowledgment note.
If you would like to donate historic objects or artifacts, books, manuscripts or other items, please contact:
Attn: Park Archaeologist
Big South Fork National River and Recreation Area
4564 Leatherwood Rd
Oneida, TN 37841
biso_information@nps.gov
Last updated: January 13, 2021