Snowmobiling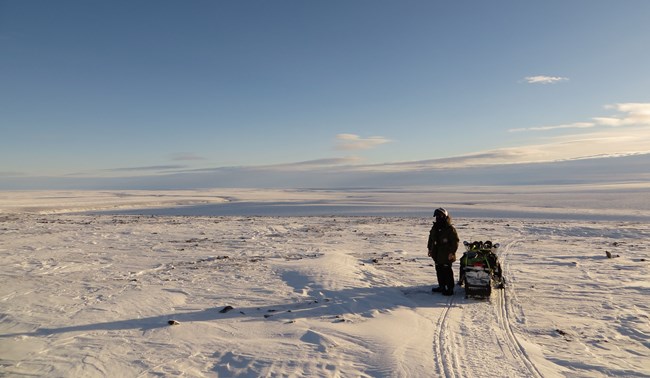 Adequate snow coverage allows visitors to enter the preserve by snowmobile. A thick blanket of snow protects the tundra from damage and scarring.
A snowmobile trail extends from the end of Nome-Taylor road, more commonly known as the Kougarak road by locals, past Serpentine Hot Springs, and to the village of Shishmaref. The trail is marked with large, metal tripods scattered along the route. However, due to exposure to the elements, heavy fog, or white out conditions they may not always be visible. These conditions make it imperative to know your route or travel with someone who does. It is recommended you take a GPS unit to facilitate your way-finding. Please keep in mind that other trails may be formed by visitors, so following previously formed trails may get you to a different location.
When visiting the preserve, you should always be prepared for any type of weather and practice backcountry safety. In case of emergency, there are emergency shelter cabins available throughout the preserve; locations are available on the preserve's map.
Snow Machine Regulations
The use of snow machines is currently allowed within the park, but is subject to various rules and regulations. See theCode of Federal Regulations(CFR).
Title 36 –Parks, Forest, and Public Property 2.18: (a) / (b) / (d) / (e)
Title 43 –Public Lands: Interior 36.11: (a) / (2) / (c)
Snow Depth
Snowmobile use is only permitted once there is adequate snow with sufficient depth and density to protect underlying vegetation, soils, and wildlife habitat. In this park, adequate snow cover is generally defined as at least 18 inches of snow with a solid base. Check current conditions before heading out.
Alaska State Law
All State Laws regarding snowmobile use apply within the park. These include, but are not limited to, those found in Alaska Statutes Title 28, Chapter 39 and the Alaska Administrative Code Sections 13 AAC 04.400 through 13 AAC 04.420.
Federal Law
Snowmobiles may not make excessive noise. This is generally defined as a maximum decibel level of 78 at or near full throttle measured at 50 feet using an A weighted scale. (36 CFR 2.18 (d)(1))

A white headlight and red taillight are required from ½ hour after sunset to ½ hour before sunrise or when persons or objects are not clearly visible at 500 feet. (36 CFR 2.18 (d)(2))

Operating a snowmobile without brakes in good working order is prohibited. (36 CFR 2.18 (d)(3))

A maximum speed limit of 45 mph applies throughout the park, unless otherwise posted. Racing is prohibited. (36 CFR 2.18 (d)(4))

Riders under age 12 must be accompanied on the same machine by a responsible person 21 years of age or older. (36 CFR 2.18 (e)(2))

Riders under age 16 must be supervised by a responsible person 21 years of age or older within sight of the rider. Each rider under 16 must be supervised by a different person over 21. (36 CFR 2.18 (e)(1), (36 CFR 2.18 (e)(3))

Towing of persons on skis, sleds, or other sliding devices is prohibited unless in a sled designed to be towed by a snowmobile and joined to the snowmobile with a rigid hitching mechanism. (36 CFR 2.19(b))

All accidents involving property damage, injury, or death must be reported to the National Park Service within 24 hours. Snowmobiles involved in such an accident shall not be moved until notification is made unless unsafe or impractical. Notifying the NPS of the accident does not relieve the operator of notifying state authorities as required. (36 CFR 2.18(a), 4.4)

All posted traffic control devices apply to snowmobiles just as they do to cars. (36 CFR 2.18(a), 4.12)

Operating a snowmobile while in possession of an open container or under the influence of alcohol is prohibited. (36 CFR 4.23)(36 CFR 2.18(a), 4.14)

Snowmobile operators must yield the right of way to pedestrians, pack and saddle animals, and vehicles drawn by animals (e.g. dog teams pulling a sled). (36 CFR 2.18 (a), 4.20)

Unsafe operation is prohibited. This includes failure to use due care, operating at a speed greater than reasonable and prudent, failing to maintain that degree of control necessary to avoid danger to persons, property, or wildlife, or riding on a portion of the snowmobile not designed for passengers. (36 CFR 2.18 (a), 4.22(b)
Last updated: August 23, 2016