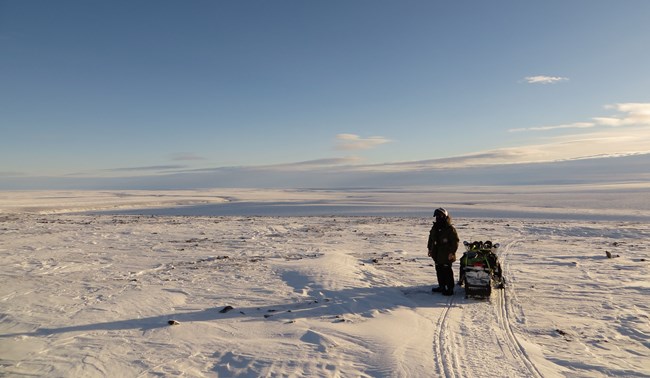 Adequate snow coverage allows visitors to enter the preserve by snowmobile. A thick blanket of snow protects the tundra from damage and scarring.
A snowmobile trail extends from the end of Nome-Taylor road, more commonly known as the Kougarak road by locals, past Serpentine Hot Springs, and to the village of Shishmaref. The trail is marked with large, metal tripods scattered along the route. However, due to exposure to the elements, heavy fog, or white out conditions they may not always be visible. These conditions make it imperative to know your route or travel with someone who does. It is recommended you take a GPS unit to facilitate your way-finding. Please keep in mind that other trails may be formed by visitors, so following previously formed trails may get you to a different location.
When visiting the preserve, you should always be prepared for any type of weather and practice backcountry safety. In case of emergency, there are emergency shelter cabins available throughout the preserve; locations are available on the preserve's map.