Learn About the Park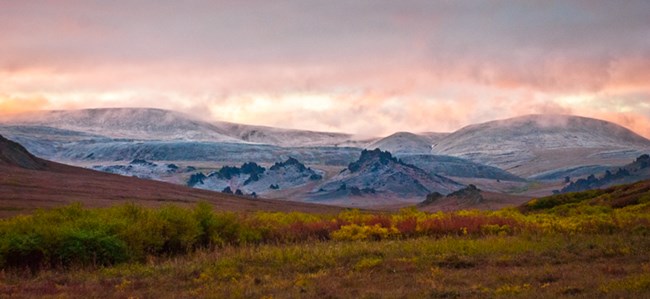 Bering Land Bridge National preserve protects a small remnant of the 1,000 mile (1,609 km) wide grassland that connected Asia and North America during the last Ice Age. Plants, animals, and people moved between these two continents until the bridge flooded around 10,000 years ago.

Learn More:
The Bering Land Bridge Theory
Learn how the theory of migration of humans between Asia and North America developed over the centuries.
Interactive Map of Nature and History
Explore nature and history of the preserve using this dynamic and interactive story map.
History and Culture
Alaska Natives have called this part of the world home for millennia. Discover the recent and ancient history of Bering Land Bridge National Preserve
Nature
Discover the raw, wild nature of Alaska's far northwestern ecosystems.
Photos & Multimedia
Experience the park from afar! Check out our webcams, virtual tours, photo galleries, videos and more
Kids & Youth
If you like exploring and discovering new things about animals, plants, and Alaska take a look here.
Education
Discover the many ways to explore Bering Land Bridge National Preserve from your classroom or from your home!
Climate Change
What does climate change mean for the wildlife and communities that make their home on the Seward Peninsula?
Publications
Explore park brochures.
Last updated: November 29, 2016