Cottonwood Cabin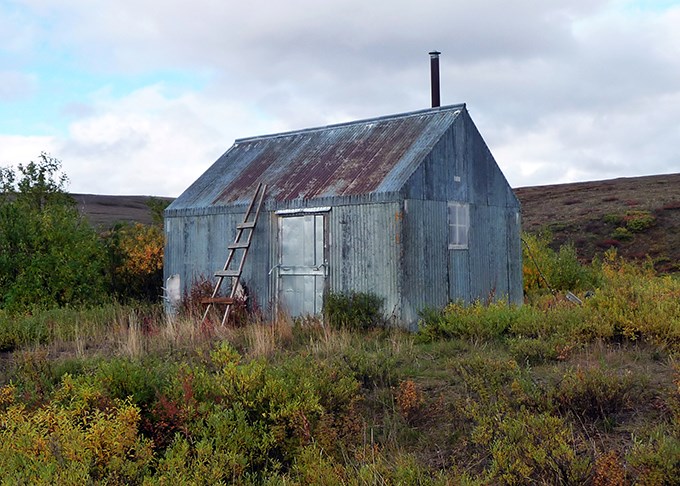 During the early 1900s, the Seward Peninsula was undergoing sharp growing pains brought on by the floodof people traveling to the peninsula because of gold mining. By the end of July 1900, more than twentythousand people had arrived in Nome. As gold miners started traveling outside the city of Nome in searchof gold, the U.S. government quickly realized the need for a larger infrastructure to support the people andequipment moving into the interior of the peninsula. In 1905, the Alaska Road Commissions (ARC) established themselves to survey, construct, and maintain public trails throughout the Seward Peninsula, including the Dahl-Creek Candle Trail.
The Dahl-Creek Candle Trail ran a total of 140 miles. It connected the gold mining settlements of Dahl and Candle. The trail was one of the few permanent winter trails running through the eastern section of the peninsula. It linked two important gold mining settlements and passed by a number of gold mining placers. The trail predominantly used during winter to transport mail, light freight, packhorses, and foot travelers; known for its hard and unforgiving winters of the Seward Peninsula, the ARC decided to build three winter shelter cabins along the trail for $65.35.
In 1932, the road commission spent $1,500.00 to build the cabins. ARC spaced the cabins about one day's travel apart because due to the peninsula's harsh environment. The difficulty acquiring wood on the peninsula made it necessary for the road commission to use corrugated metal as siding. The trail and cabin were in frequent use until gold mining became less popular in the 1940s. The National Park Service recently renovated Cottonwood Cabin as an emergency shelter for winter.
Last updated: December 11, 2015