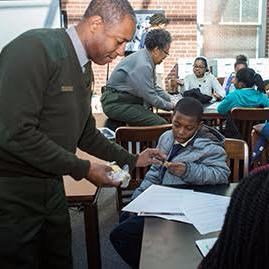 In partnership with the Brooklyn Historical Society (BHS) Young Scholars Program, rangers at the Ellis Island National Museum of Immigration provided fourth and fifth-grade students with a hands-on opportunity to make connections with their heritage by conducting primary research exercise.
The students in this year's Young Scholars Program, who are all of Caribbean descent, are writing a book based on the theme "The History of the Caribbean Immigration to the United States." To complete the project, the students are working with park rangers, historians, graphic designers, and other professionals.
On a chilly day in February, the students visited Ellis Island to learn about early Caribbean immigration through a series of activities facilitated by park rangers Ted Johnson, Ed Mucci, Andrea Boney and Peter Wong. When students arrived, they participated in an immersive role-playing activity called "The Journey" that enabled them to experience what it may have been like to be a newly-arrived immigrant processed at Ellis Island in the early twentieth century.
Ranger Boney shared the experiences and original passports of her grandparents who emigrated from Trinidad in the 1920's. Students then listened to excerpts from archived oral history interviews conducted with Caribbean immigrants focusing on why they left their homes, what their early impressions of America were and how they preserved their culture in America. As students listened, they completed a worksheet and participated in a facilitated dialog that prompted them to think about the unique successes and challenges experienced by early Caribbean immigrants and by immigrants today. The entire day's events were well documented by a crew of 5th-grade school news reporters who conducted interviews of their own with the park rangers.
The students were enthusiastic about day's activities, and the experience provided an opportunity for the students to contemplate the various dynamics of the immigration experience and helped them to connect with the concept of resource stewardship.