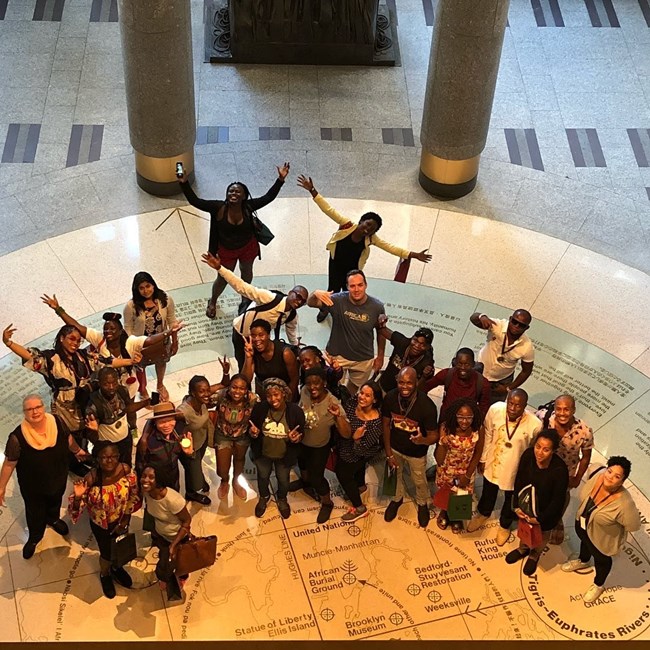 A group of 25 Mandela Washington Fellows from Africa visited the African Burial Ground National Monument Thursday. The Mandela Washington Fellowship aims to empower young leaders from African countries through academic coursework, leadership training, and networking opportunities. The Fellowship, which began in 2014, has already engaged 2,000 young leaders from every country in Sub-Saharan Africa; in other words, African countries located south of the Sahara Desert.
Through this initiative, young African leaders are gaining the skills and connections they need to accelerate their own career trajectories and contribute more robustly to strengthening democratic institutions, spurring economic growth, and enhancing peace and security in Africa. The Mandela Washington Fellowship is a program of the United States Government. The U.S. components are administered by the U.S. Department of State's Bureau of Education and Cultural Affairs and supported by IREX, a U.S. non-governmental agency.
Last year was the first time a group of Mandela Fellows visited the Burial Ground, and because of the overwhelmingly positive feedback the host college, Wagner College, Staten Island, NY, is making the visit a part of the annual curriculum along with attending the live reading of the Declaration of Independence at Gateway National Recreation Area, Fort Wadsworth Unit on July 4, 2018.
To learn more about the impressive backgrounds of the 2018 Mandela Washington Fellows, go to http://wagner.edu/intercultural/meet-2018-mandela-washington-fellows/