Yosemite National Park Develops New Helicopter Rappel Program
In September 2015 the new NPS Helicopter Rappel Operations Plan was approved by the National Park Service as national policy. The redesigned Helicopter Rappel Program, embodied in the operations plan, was the result of five years of dedicated work by the Yosemite National Park Visitor and Resource Protection Division.
Helicopter Rappel - A Vital Tool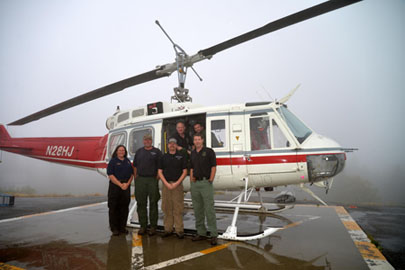 Helicopter rappel is a vital tool at Yosemite National Park and is frequently used to insert personnel into wildfires and search and rescue incidents. Helicopter rappelling is achieved by dropping an attached rope from the helicopter to the ground enabling fire and rescue personnel to descend to the ground from the helicopter. Helicopter rappel is used to access terrain that is not suitable, practical or safe for helicopter landings.
Since the early 1970's, federal interagency rappel programs have used equipment designed for utility work. In spring of 2010, Yosemite National Park recognized the opportunity to update their helicopter rappel program by testing and evaluating modern, commercially available equipment from the climbing industry. The intent was to develop a new generation of helicopter rappelling procedures and equipment to support wildland fire operations and search and rescue missions in steep, technical environments such as Yosemite.
Moving Forward
In fall 2010, Yosemite's Chief Ranger formed the Yosemite Helicopter Rappel Workgroup. With overwhelming support from the park, the NPS Pacific West Region, and the NPS Washington office, Yosemite Fire and Aviation and Yosemite Search and Rescue staff collaborated to methodically test equipment and develop new procedures. Over the course of several years, the workgroup performed rigorous testing, evaluation, and documentation and consulted multiple subject matter experts. The final testing stage included helicopter rappels at heights ranging from 50 – 300 feet in order to evaluate the effectiveness, reliability, and efficiency of the selected equipment and procedures.
In spring 2015 the Yosemite Helicopter Rappel Workgroup had selected the final equipment and procedures that would enhance the utility and increase safety of NPS wildland fire and search and rescue operations. The Workgroup's recommendations were forwarded through the NPS Pacific West Region to the NPS Washington office and were approved as national policy on September 15, 2015.
"I knew we had the right people in the right place to safely succeed in developing a new national standard for Helicopter Rappelling," stated Kelly Martin, Chief of Fire and Aviation Management at Yosemite.
The Yosemite National Park Visitor and Resource Protection Division extends its gratitude for all of the agency support provided to achieve this goal. Special thanks to the Yosemite Helicopter Rappel Workgroup: Eric Small (Helitack Crew Supervisor), Matt Stark (Yosemite Sub-district Ranger and Yosemite Search & Rescue member), Kevin Killian (Yosemite Chief Ranger), Kelly Martin (Yosemite Chief of Fire and Aviation), Andrew Davenport (Helitack Crew Lead) and Jeff Pirog (Yosemite Park Aviation Manager). Additional acknowledgements are due to: John Dill, Peter McDermott, the Yosemite Helitack Crew, the Yosemite Helicopter Rescue Team, and Kachina Aviation pilots Richard Shatto and Tim Lyons.
Last updated: January 13, 2016