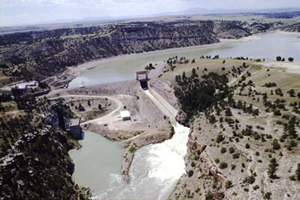 On the North Platte River in eastern Wyoming, Fort Laramie plays a starring role in the history of the American West. Now a National Historic Site, Fort Laramie once was a way-station for the thousands of pioneers heading overland to Oregon, California, or the Salt Lake Valley in the mid-1800s. With Laramie Peak in the distance, they rested briefly at the fort before lumbering on, their heavy wagons carving deep ruts in the soft sandstone south of present-day Guernsey, Wyoming. Overlanders followed the arc of the North Platte River deep into central Wyoming until they turned up the Sweetwater River, bound for South Pass over the Continental Divide. 

The North Platte River Valley is rich in history from its centrality to the Plains Indians and the fur trade, to its stage stops and Army forts, to its overland trail route, with wagon ruts still visible near Guernsey. The river is no less important today as it supplies the water to irrigate more than 335,000 acres, transforming Wyoming and Nebraska sagebrush and rangeland into productive agricultural land, where alfalfa, corn, potatoes, sugar beets, and dry beans grow. 

The Bureau of Reclamation has constructed a number of dams on the North Platte River, including the historic Guernsey Dam, completed in July 1927 with its two-generator powerplant and its elegant, classical arch gatehouse, all of which are listed on the National Register of Historic Places. In addition, as an outgrowth of the Depression-era Civilian Conservation Corps (CCC), Guernsey's reservoir, Lake Guernsey, has become a showplace and prototype for developing "recreation areas" around western reservoirs. At Guernsey, National Park Service landscape architects assisted the state by developing the kind of "master plan" that would be used in scores of state and local park developments around lakes and reservoirs.