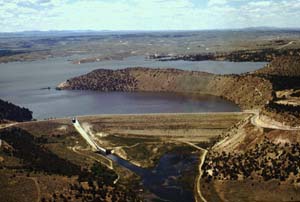 Few issues in the arid West are as contentious or complicated as water rights. Wyoming and Nebraska tangled over rights to the North Platte River as early as the 1880s, disputes that on occasion ended up in the U.S. Supreme Court. It took 11 years to resolve one lawsuit, the Supreme Court finally ruling in 1945 that Nebraska was entitled to 75 percent of the North Platte's flow, and Wyoming 25 percent. When Wyoming's Glendo Dam was authorized in 1944, it would operate under this Supreme Court decree, but there would be further complications. 

The trouble with the North Platte is its disregard for state boundaries. While the river rises in the snowmelt of the Colorado Rocky Mountains, it flows north into Wyoming, and then curves sharply east, crossing into Nebraska northwest of Scottsbluff. When Glendo Dam was proposed, it was the latest of many dams already ringing the North Platte in Wyoming--Seminoe, Pathfinder, Alcova, and Guernsey (Kortes would be added in 1951; Gray Reef in 1961). Proposed for a site 25 miles downstream from Guernsey Dam, Glendo originally was not intended to add to irrigation development. Its purpose was to help reduce loss of capacity in Guernsey Reservoir due to silting. In addition, it would increase the region's hydroelectric power by storing water released from upstream powerplants, thereby letting those plants operate year round. 

Although preliminary investigations for Glendo Dam and Reservoir began in 1944, competing state interests held construction up until December 1954. Nebraska feared Glendo Reservoir would reduce flow into Lake McConaughy at Ogallala, while Colorado thought the additional storage at Glendo might be grounds for it to request the use of more water in the state's North Park region, headwaters of the North Platte. It took an act of Congress, Public Law 841, to reveal just how heated a water question could become in the West. No money would be appropriated for any part of the Glendo project, Congress stated, until a definite plan for water use was agreed upon by the three states and approved by Congress.