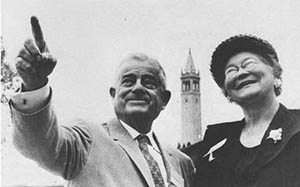 From  Parks, Politics and People  "Chapter 8 War: Hot and Cold" by Conrad L. Wirth 
By 1941 the oncoming war had affected all activities in the National Park Service and in many other bureaus of the government as well. Although a bill had been introduced in Congress to abolish the CCC, many of us were still clinging to the hope that it could be sustained at a low ebb for at least a few years. In December, Secretary Ickes wrote to the president regarding a letter the president had sent to Social Security Administrator Paul V. McNutt that called for gradual elimination of the army from the operation of the Civilian Conservation Corps and that requested that legislation be framed to consolidate the corps with the National Youth Administration. The secretary stated that he was in full accord with the removal of the army from the CCC, but he concluded with this appeal: "I strongly urge that instead of transferring all War Department duties in the CCC administration to the Federal Security Agency you consider a plan which would transfer the bulk of these duties to the Departments of Interior and Agriculture, leaving with the Federal Security Administrator responsibility for determination of general policies and for program coordination." He reported that the Department of Agriculture fully agreed with his recommendations. That letter was forwarded to the White House on December 6, 1941.
The next day, Sunday, December 7, the Japanese bombed Pearl Harbor, and we were at war. The United States declared war on Japan on December 8, and on Germany and Italy on December 11. There was no doubt then that we were through with the CCC; it was no longer a question of reorganizing it but rather of disbanding it. Every emergency program began to dry up, and by the next fiscal year—July 1, 1942, to June 30, 1943—the only funds available for CCC operations were a few thousand dollars to take care of the transfer of equipment and materials to other jurisdictions.