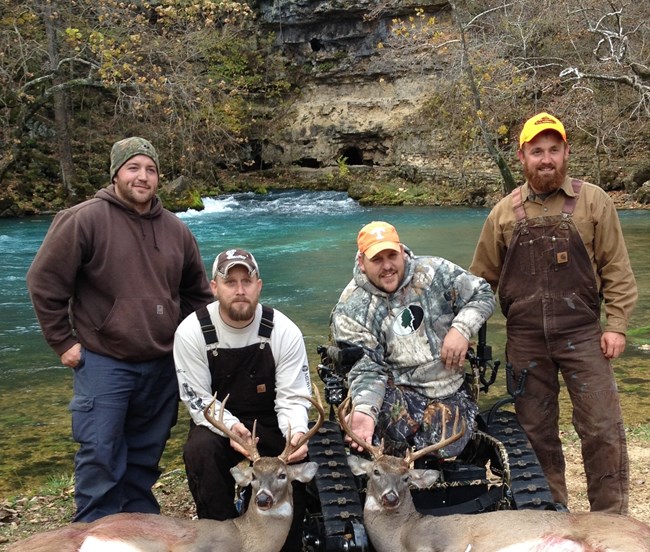 Ozark National Scenic Riverways holds a managed deer hunt for Wounded Warriors in partnership with the Foundation for Exceptional Warriors (
The FEW
) and the Missouri Department of Conservation. The FEW is a nonprofit organization that proactively and directly serves Exceptional Warriors who epitomize honor, valor, service and sacrifice. The FEW helps to offset hunting and lodging expenses for the Wounded Warrior hunt participants.
This managed hunt is made available to ten individuals who are current or honorably discharged military members with permanent mobility impairments. Participants are selected through an application process. They are allowed to use center-fire rifles in accordance with Missouri hunting regulations to take two deer each. The hunt will improve the overall health of Ozark's Big Spring deer herd.
The Big Spring area has generally been a "no hunting" zone since the days when it was a wildlife refuge within Big Spring State Park. In 2011, park resource management staff implemented a study within the Big Spring area to estimate deer abundance and establish baseline information for population management. Results of this study confirmed the deer population density has grown to a level that could have negative impacts on park resources and the health of the deer.
Since 2013, the Exceptional Warrior hunt has grown to include over 15 sponsors and many volunteers whose primary goal is to honor veterans by providing a special and memorable experience. Starting in 2016, the out-of-pocket expenses originally incurred by each hunter have been paid for by The FEW, resulting in a no-cost hunt to each hunter.
Wounded Warrior Greg Young remembers the hunt as "a truly uplifting and exciting experience. Everything exceeded our expectations; from the pre-hunt quilt presentation to the post-hunt deer processing assistance." The hunt was designed to provide an opportunity for service members to have an experience that they normally would not be able to have. For many, the hunt meant much more than harvesting a deer; it was "a complex healing experience," said former Army Combat Engineer Joe Bogart.
"I enjoyed my time in the woods and the whole experience. I feel I made some new friends, had fun with old buddies, and learned a bit more about myself. As I am still realizing and understanding what my limitations are as a Wounded Warrior, I continue to push those limits as much as I can. Getting to joke with the rangers and guides felt just like home," recalls Bogart.
The great success of this hunt went far beyond the direct assistance of park staff. Many local sponsors contributed in very significant ways.Event coordinator Kim Houf, the park's Terrestrial Ecologist, was amazed at the outpouring of support she received for this hunt. From food donations to folks just asking to be a part of it in some way, there was an overwhelming sense of respect and gratitude for the Wounded Warriors. Donations to the event did not start and end with money. It was obvious to everyone involved that this hunt was about giving back - giving to those who have sacrificed so much on the field of battle. "Whether someone served as an assistant to a hunter, made a quilt or helped in field dressing a deer, participating in this hunt first-hand was something none of us will forget," says Houf.
According to Superintendent Larry Johnson, "We are pleased to offer this recreational opportunity in honor of individuals who have sacrificed so greatly for our country. I'm proud of the efforts put forth by our National Park Service staff and the outpouring of support from the local community over the past several years to make this an unforgettable experience for our veterans."