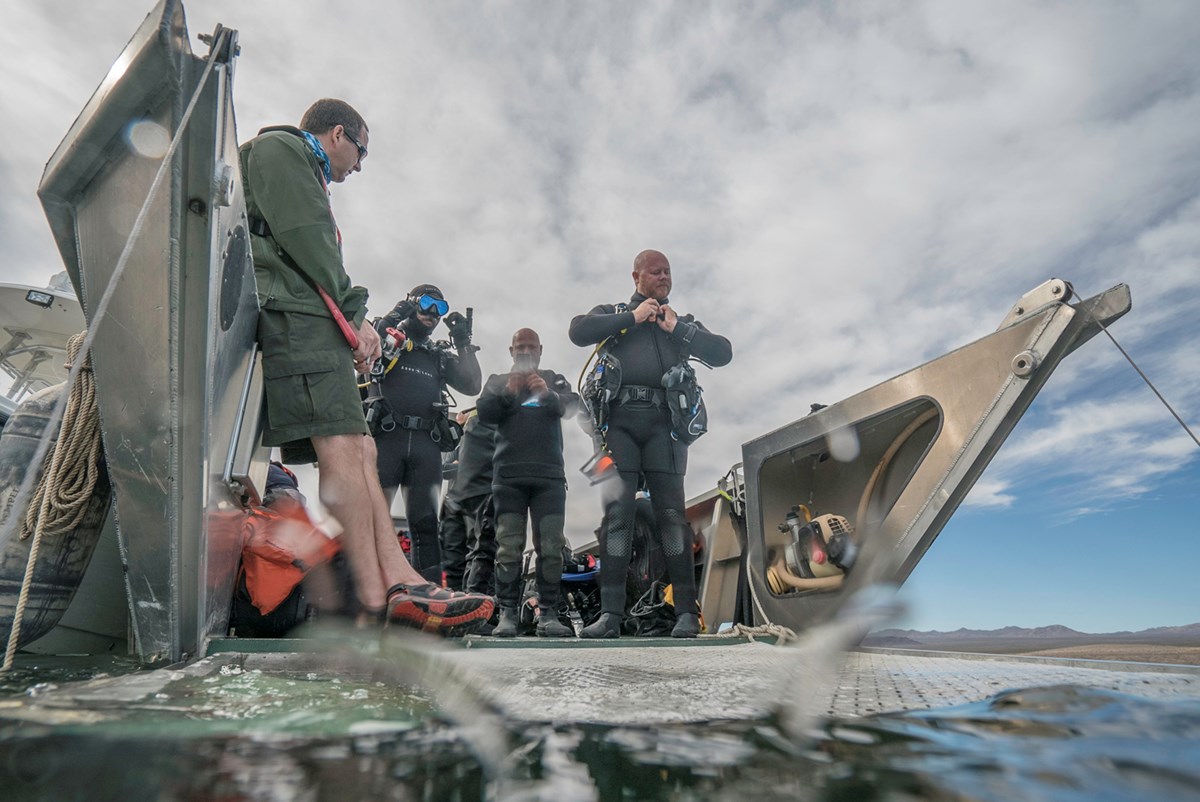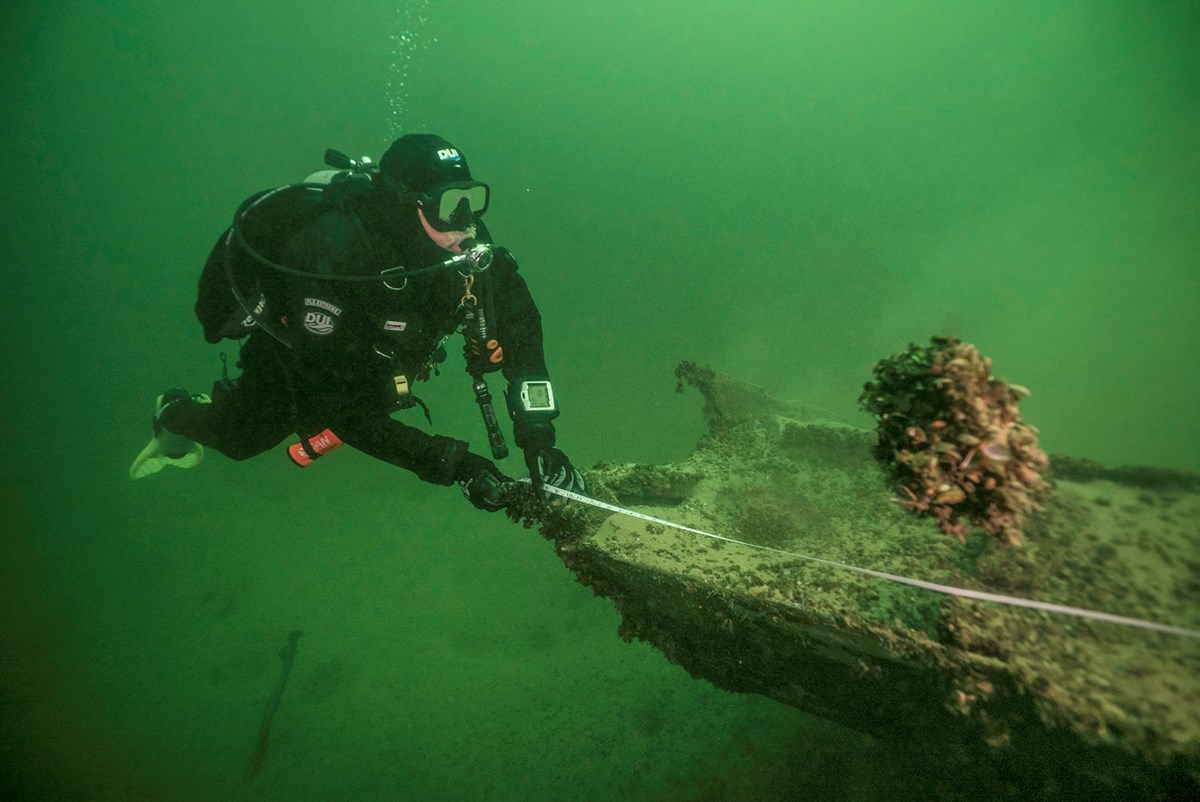 On Nov. 8, Army, Navy, Marine Corps, Coast Guard and Air Force veterans dove on an aerial ferry that now lies at the bottom of Lake Mohave. The ferry was suspended by cables above the Colorado River in the 1930s and was used to transport cars, people and goods from one side of the river to the other.
As the team surfaced from their dive, they bonded at the back of the boat over their experience. They shared their appreciation for diving and how it has helped them overcome their personal battles. For Jeff Pickard, diving has helped him find relief from pain.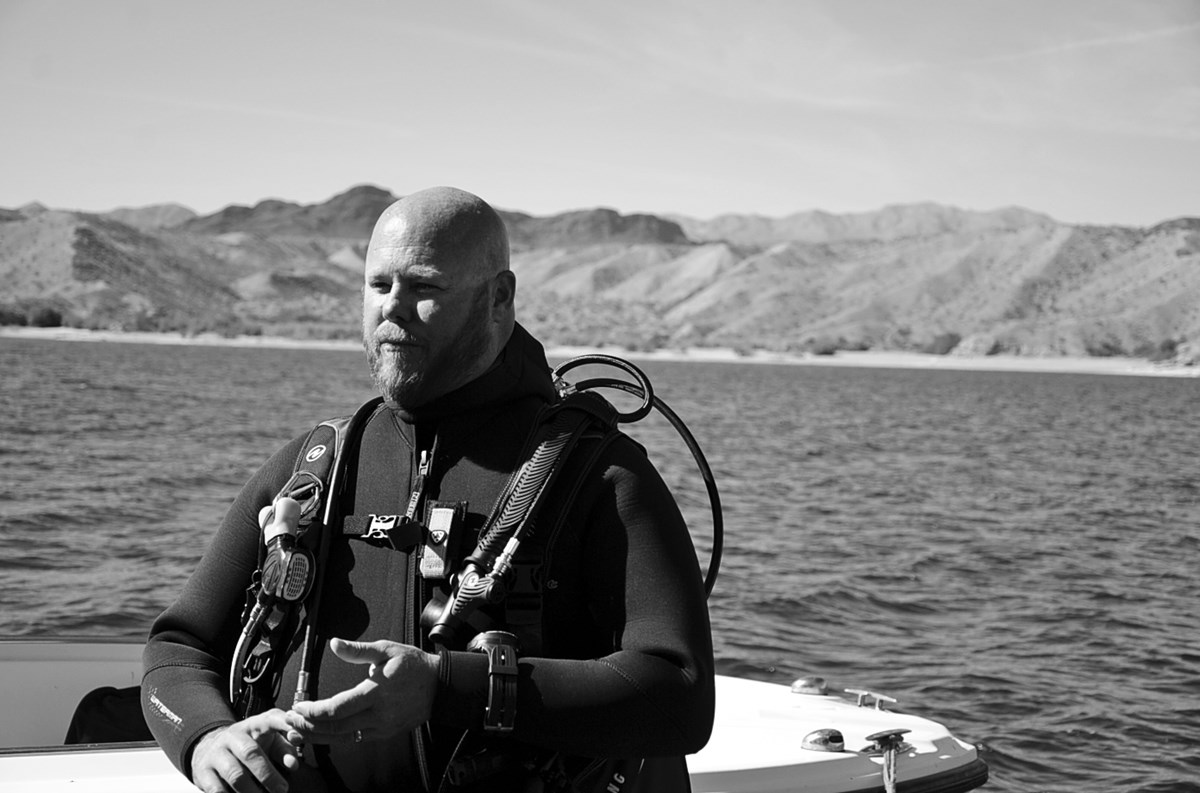 He served 10 years in the Navy and 5 ½ in the Army. During a tour in Iraq, he was shot in the arm and experiences chronic pain from his injury.
"When I dove the Yukon, I had pain relief in my left arm for the first time," he said, adding that a 100-foot deep dive usually provides relief for one week.
Pickard and the team conducted multiple dives while at Lake Mead National Recreation Area. He was anxious to see if the consecutive dives would help the relief last longer. "Right now, the pain is gone," he said after his Nov. 8 dive.
Steve Rubin, the executive director and co-founder of the WAVES Project, said his organization started out as a way to support veterans with physical disabilities, but they have found that it's also healing for those suffering from PTSD and traumatic brain injuries.
He said a study conducted by Johns Hopkins University showed that wounded veterans experienced an 80 percent reduction in PTSD for up to six weeks after diving.
"As America's most diverse national recreation area, we have two beautiful lakes that are ideal for scuba diving," said Lizette Richardson, the park's superintendent and the spouse of an Air Force retiree. "We are honored that Lake Mead National Recreation Area can serve as a healing place for our veterans. We look forward to strengthening our collaboration with key education, military and veteran community partners."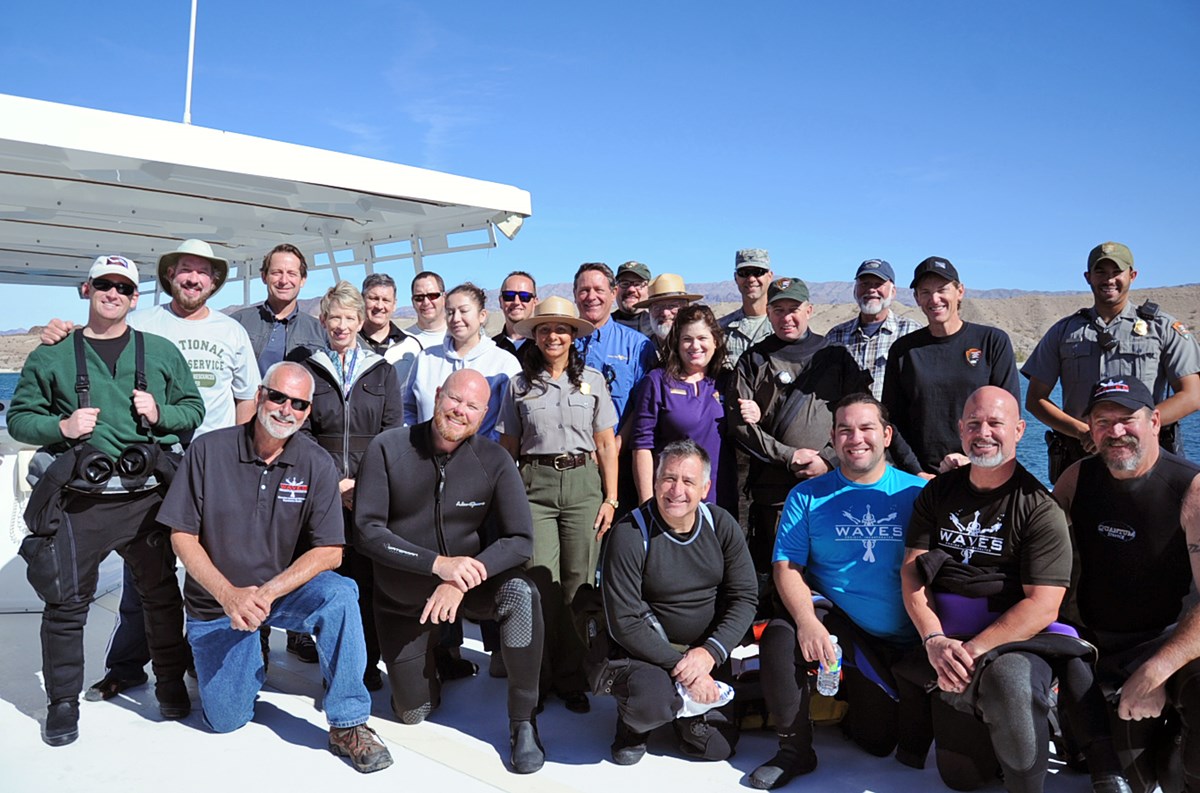 The WAVES Project and SRC plan to assess their experience at Lake Mead National Recreation Area as they look for future opportunities at Lake Mead and other national parks. The WAVES Project is currently working with veteran-owned dive shops in Denver, Phoenix, San Diego and San Dimas. Rubin's goal is to duplicate the program in various major cities throughout the United States, including Las Vegas.
In the interim, U.S. citizens with permanent disabilities can obtain a free pass to national parks at any Lake Mead entrance station, and veterans in Southern Nevada can visit the Veterans Affairs Southern Nevada Healthcare System. It offers a variety of services and classes to help veterans on their pathways to recovery.
"I am always amazed to see and hear the stories of veterans who participate in opportunities such as this," said Peggy Kearns, director and CEO, Veterans Affairs Southern Nevada Healthcare System. "Therapeutic recreation provides an avenue that helps veterans maintain their physical, mental and emotional well-being.
"Whether it's through one of the many arts and crafts, sports or exercise programs the VA offers, or via outside initiatives such as The WAVES Project, activities such as these help veterans with illnesses, disabilities and other conditions use leisure in ways that enhance their quality of life," she added.
Kearns viewed the WAVES Project dive at Lake Mead National Recreation Area from a boat via an underwater camera. She was joined by Col. Mike Davis, vice-commander, 99th Air Base Wing, Nellis Air Force Base, and Dr. Andy Kirk, chair, UNLV History Department.
The event was made possible with support from Forever Resorts and Aramark, two of the park's concessioners who help provide diverse visitor experiences and routinely support military and veterans.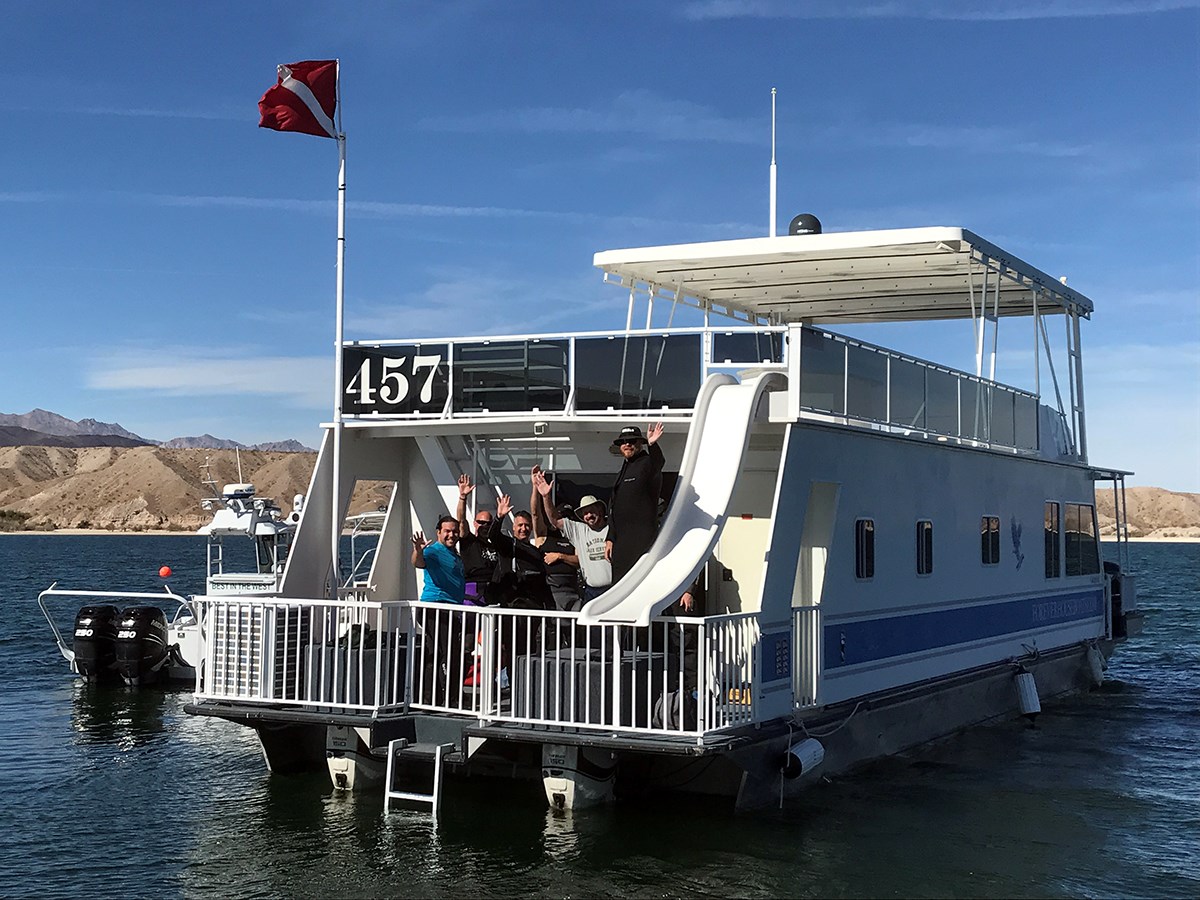 The veterans who dove with Conlin and Brett Seymour, the deputy chief of the SRC, included Pickard, Todd Thompson (Air Force), Danny Gililland (Army), Waco Merchant (Marine Corps), Kris Moorehead (Coast Guard) and Randy Lung (Marine Corps).
Lung said diving puts people with disabilities on the same level playing field as able divers.
"Diving gives everyone a fresh start," he said.
To learn more about the WAVES Project, visit https://www.wavesproject.org. To learn more about the SRC, visit http://go.nps.gov/SRC.
Visit our keyboard shortcuts docs for details
Duration:

3 minutes
Divers from the Wounded American Veterans Experience Scuba Project dive on a historic aerial ferry with the Submerged Resources Center at Lake Mead National Recreation Area Nov. 8.