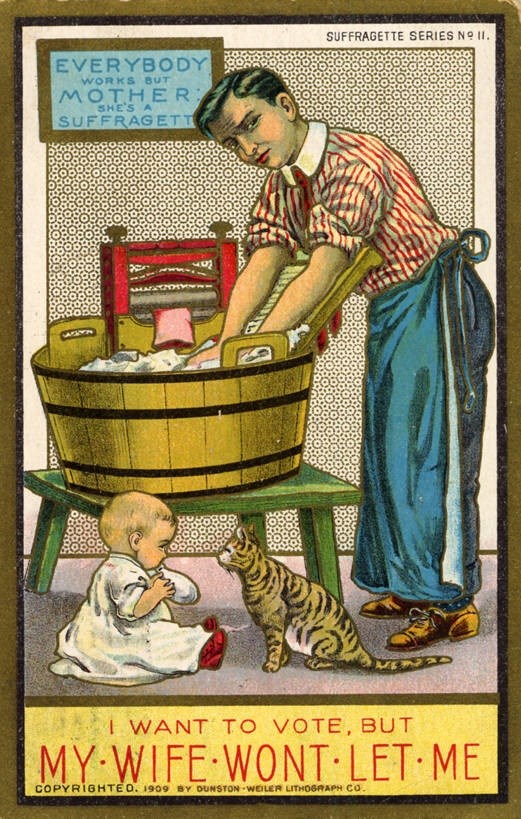 What is suffrage? And what does it have to do with cats?
In the 1800s and early 1900s, many women and men supported women's suffrage (the right to vote). There were, however, people that opposed the idea. One of the prevailing beliefs was that voting power would diminish a woman's role as caretaker of the family. Some women and men felt so strongly about this that they founded anti-suffragist organizations. Cartoonists also created advertisements and postcards supporting anti-suffragists. These ads often featured animals to make a point.
In popular mainstream culture at the time, women were associated with animals perceived as passive, like cats. Social norms dictated that middle class, white women should stay in the home. Men, however, were expected to occupy public spaces and partake in physical exercise. As a result, men were often associated with physically active animals like dogs. Anti-suffrage artists used these animals symbolically in their cartoons.
Cats were more often used in British anti-suffragist ads. Anti-suffrage organizations in Britain used cats to try to make the point that women were simple and delicate. The cartoons implied that women's suffrage was just as absurd as cat suffrage because women (and cats) were incapable of voting.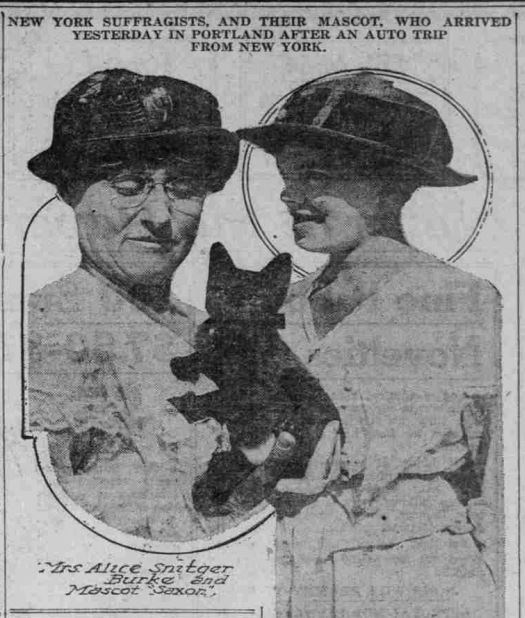 Cats were also used symbolically in some American anti-suffrage ads. A number of American cartoons showed men at home with a cat, taking care of the children. The cat symbolized a loss of the man's masculinity. Some people believed that if women participated in politics, men would be left at home to raise the children.
Suffragists took back the meaning of the cat in 1916. That April, suffragists Nell Richardson and Alice Burke started a cross-country road trip in a two-seater car they called "The Golden Flier." Members of the press at the send-off ceremony in New York City reported that the car looked like "a little yellow ant scuttling off through the crowds of limousines and autotrucks which lined the streets" (New York Tribune, April 07, 1916).
Over the next several months, the women stopped in New Jersey, Maryland, Virginia, Ohio, Texas, California, Washington and other states across the country to talk about the importance of women's suffrage. During their trip, the women adopted a cat that became their unofficial mascot. They named him Saxon, after the manufacturer of the Golden Flier.
Over the next several months, the women spent long hours standing on street corners and in public parks making speeches about suffrage. Alice Burke commented that they were in the sun so often that they let their "noses blister and burn" and their "hair sizzle." Burke and Richardson were not the only ones enduring the hot weather. Burke wrote in her diary:
The little black kitten is suffering as much as we are from the heat, but he keeps under a cover, and all we can see around the corner of it is a pink nose and a youthful whisker." (New York Tribune, May 29, 1916)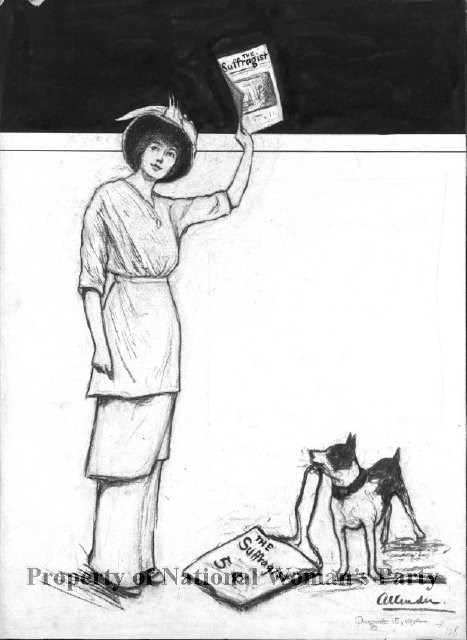 Burke and Richardson were not the only suffragists adopting new tactics to advance women's rights. Alice Paul, founder of the Congressional Union for Woman Suffrage and the National Woman's Party, chose another strategy in her campaign for women's equality. Rather than address the anti-suffrage images, she was determined to tell a new story of where women belonged. Through its newsletter, The Suffragist, the National Woman's Party portrayed women as strong, capable, and confident.

Nina Allender was the official cartoonist of the National Woman's Party. She contributed political cartoons to the newsletter, some of which featured the "Allender Girl". The "Allender Girl" usually depicted a woman who was young, sophisticated, and stylish. This was the "New Woman" of the 20th Century. She wasn't concerned with laundry or children. She was in public demanding her rights, often with her hands on her hips and her chin lifted defiantly. There were no cats in Nina Allender's cartoons; the women in them were definitely not simple and delicate.
The one exception appears in an early work by Allender from 1914. The cartoon shows a weary woman holding a toddler while another little girl plays with a cat in the street of a working-class neighborhood. It is titled "The Inspiration of the Suffrage Worker." For those women still stuck in the drudgery of caring for a home and children, it seems to say, we will fight for you, too. The young mother in the cartoon is anything but delicate. She looks just as determined as the suffragists. Perhaps the girl petting the cat will grow up to be just as fierce.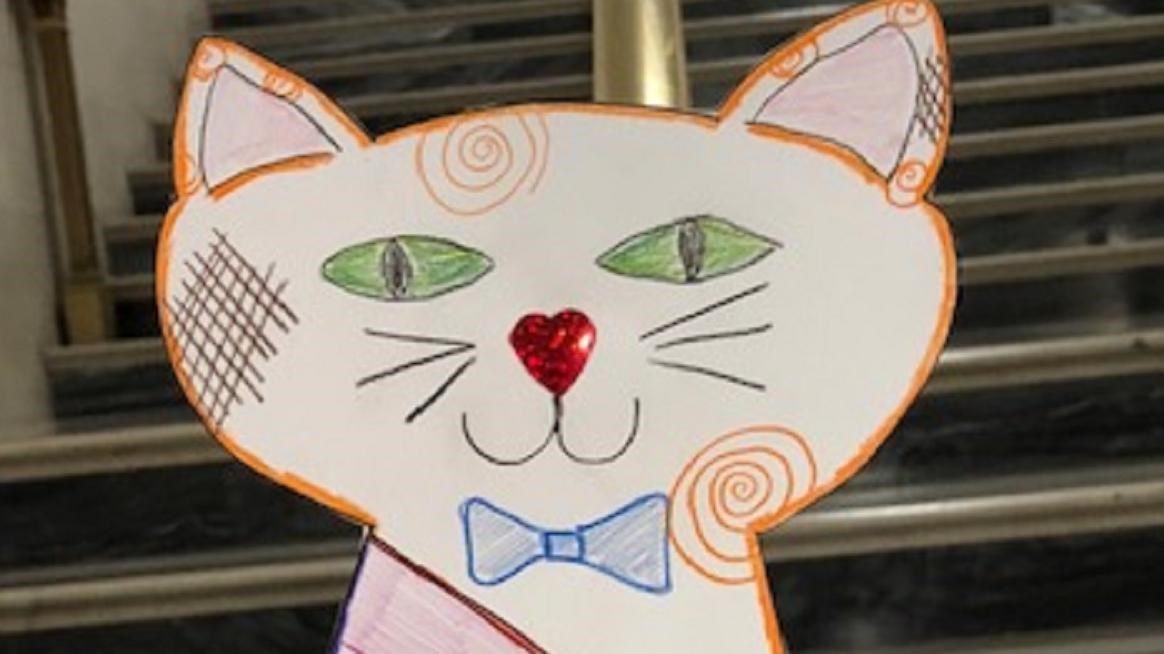 Meet Suffrage Cat!
Suffrage Cat is part of the National Park Service's celebration of the 19th Amendment. 2020 marks the centennial of the Amendment!
Sources:
O'Gran, Patri. "Traveling for Suffrage Part 1: Two women, a cat, a car, and a mission." The National Museum of American History, Smithsonian Institution. (March 5. 2014) https://americanhistory.si.edu/blog/2014/03/traveling-for-suffrage-part-1-two-women-a-cat-a-car-and-a-mission.html
"Golden Flier' Back in Gotham," El Paso Herald (September 23, 1916).
"Golden Flyer" in Texas Sun, Carries Message of Suffrage," New-York Tribune ( May 29, 1916).
"Golden Suffrage Car with Crusaders and Gowns Starts 15,000-Mile Tour," The Day Book (April 12, 1916).
"Porcelain Cat Figurine, 'Votes for Women,'" Museum of Liverpool. http://www.liverpoolmuseums.org.uk/mol/visit/galleries/peoples/womens-suffrage/item-273839.aspx
"Suffrage Flier Speeds on Way," New-York Tribune (April 7, 1916).
"Suffs" to Speak Saturday to Club," The Seattle Star (July 14, 1916).
Additional Readings:
Dr. Kristin Allukian and Dr. Ana Stevenson, The Suffrage Postcard Project –Digital Humanities Project
Georgine Clarsen, Eat My Dust: Early Women Motorists (Baltimore: Johns Hopkins University, 2008)
Virginia Scharff, Taking the Wheel: Women and the Coming of the Motor Age (Albuquerque: University of New Mexico, 1992)