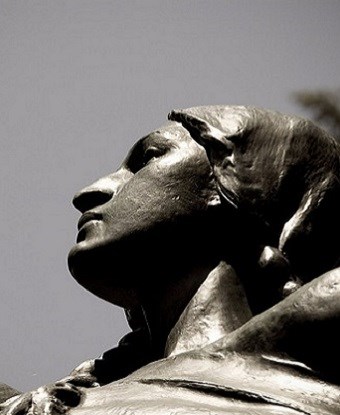 Woman throughout history have had a powerful impact on our country's growth, direction, and success. March is Women's History Month and we'll look at several woman who made significant impact on the Lewis and Clark Expedition.
Apart from the two Captains, a young Shoshone woman is perhaps the best known member of the entire Expedition. Fact and fiction have made Sacagawea a legendary figure whose name often appears in lists of the country's most admired women.
While we don't know many things about her, and much of her life before and after the Expedition remains a mystery, we do know Sacagawea was a valued part of the Corps. The journals have numerous accounts of her bravery, levelheadedness, dedication, and resilience from the time the Captains met Sacagawea and her husband, Toussaint Charbonneau, in early November 1804 at the Mandan villages.
Over the next 20 months, this young woman would change the course of history, and would play a memorable role in the success of America's most important exploratory mission. Her significance was finally made official on January 17, 2001 when President Bill Clinton named her an honorary sergeant, regular army.
For more on Sacagawea, go to:
https://www.nps.gov/lecl/learn/historyculture/sacagawea.htm