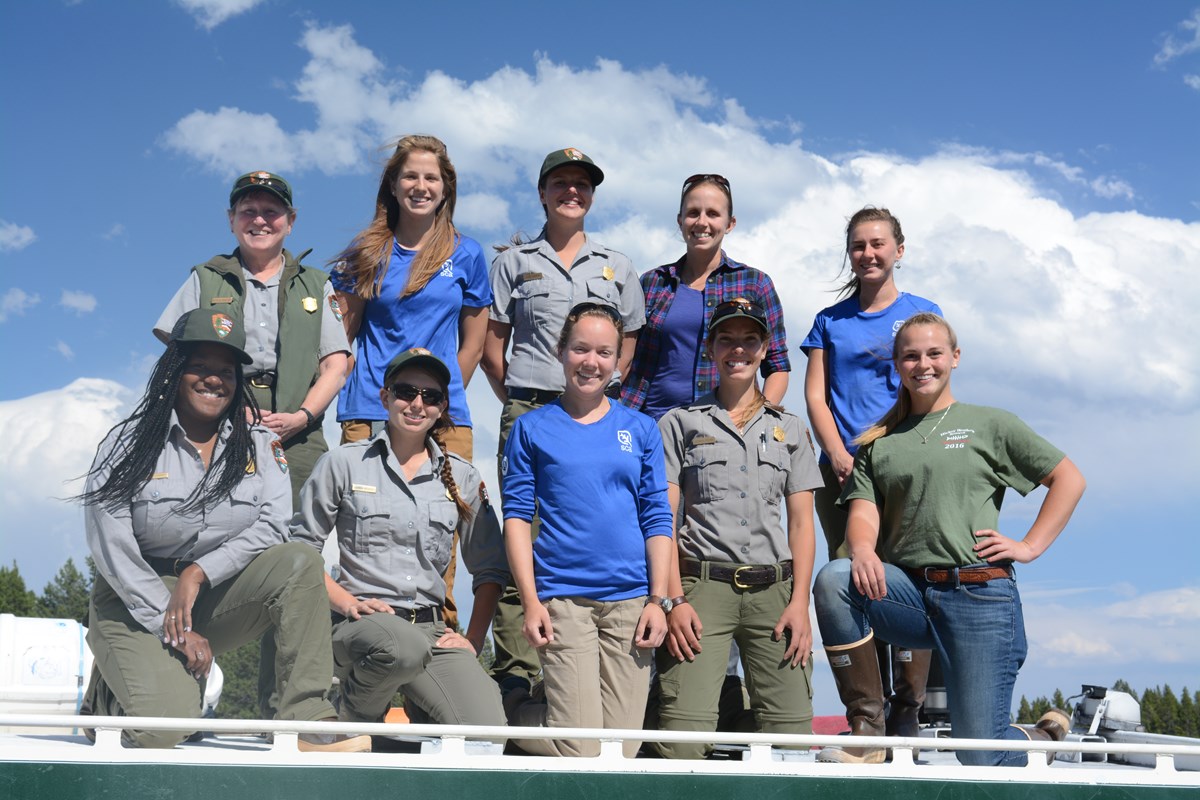 from:
Yellowstone Science 25(1)

Yellowstone National Park presents a unique opportunity for young professionals pursuing a career in fisheries management and research. Every year seasonal fisheries technicians, Student Conservation Association (SCA) interns, and volunteers from all over the world are hired to join the fisheries team. Many who start as technicians or interns here go on to pursue graduate education and careers in the fisheries profession. This year, women represent 38% of the fisheries staff, a higher level than the fisheries profession in general. A study conducted by Oregon State University researchers and the U.S. Forest Service (Arismendi and Penaluna, 2016) found that just 26% of federal fisheries biologists (GS 11-15) are women. The study revealed that numbers for minorities are even lower. These disparities in race and gender in professions such as fisheries biology are important to highlight and discuss as we look toward diversifying the workforce in all branches of science.
Bibliography
Arismendi, I., and B.E. Penaluna. 2016. Examining diversity inequalities in fisheries science: a call to action. BioScience 66(7): 584-591.

Sarah Rubenstein has been pursuing a career in fisheries since graduating from Cornell University in 2015 with a degree in environmental sciences. A rewarding and enjoyable summer of working with Yellowstone cutthroat trout has confirmed that she is in the right field, and she plans to further her education and opportunities with graduate school in the coming years.

Andriana Puchany grew up fishing with her father in rural North Dakota. She obtained her BS in fisheries management and came to Yellowstone in 2014 as an SCA intern. Her future plans are to become a biologist in a fisheries-related field.

Taylor Preul worked as an SCA intern for the lake trout removal program in Yellowstone this summer. She is currently finishing a degree in Ecology from Northern Michigan University and researching fish ecophysiology in the Northern Michigan University fish lab. She has previous fisheries experience in Michigan and Wisconsin.

Michelle Briggs worked as an SCA intern and a fisheries technician for Montana State University in Yellowstone this summer. She has a degree in biology from the University of Southern California and has done seasonal fisheries work in Washington and Alaska.

Lauren McGarvey started working in fisheries as a summer intern with Trout Unlimited in Pennsylvania. Lauren then came to Yellowstone as a SCA native trout restoration intern. She worked several seasons as a fisheries technician with the National Park Service and will soon be attending Montana State University for her MS in Fish and Wildlife Management.

Sarah Koeber received her BS with a major in Natural Resource Management from Grand Valley State University in 2016. Sarah started working with Yellowstone fisheries as an SCA intern in the summer of 2015. She has now returned as a National Park Service technician working in the lake trout suppression program.

Kim Barrett completed her first season as a fisheries technician at Yellowstone this summer. She has degrees in Natural Resources Management and Environmental Studies with concentrations in fisheries and community engagement. She has worked on several fisheries projects with organizations such as the Forest Service, Fish and Wildlife Service, and Trout Unlimited in Alaska and Vermont. She plans to do community-based fisheries management with under-served communities.

Jordan Critcher is originally from North Carolina, where she obtained her BS in Marine Biology. This past season she worked for Hickey Brothers Research assisting with lake trout suppression. She currently resides in Idaho where she works with freshwater species and volunteers with the community to help better the environment.

Colleen Detjens is a native fish conservation biologist for the Yellowstone Native Fish Conservation Program. Her work focuses on both the streams and lakes within Yellowstone National Park and includes a wide variety of projects. A Chicago native, Colleen came to Yellowstone in 2011 and hasn't looked back since! Colleen works in cooperation with Montana State University's Institute on
Ecosystems.

Patricia Bigelow has worked in fisheries for over 34 years, 20 of those in Yellowstone National Park. She currently focuses on suppression of the non-native lake trout in Yellowstone Lake in defense of the Yellowstone cutthroat trout. She obtained her PhD from University of Wyoming, modeling potential lake trout spawning habitat in the lake.