Article
Women in Fire Science: Ellen Frondorf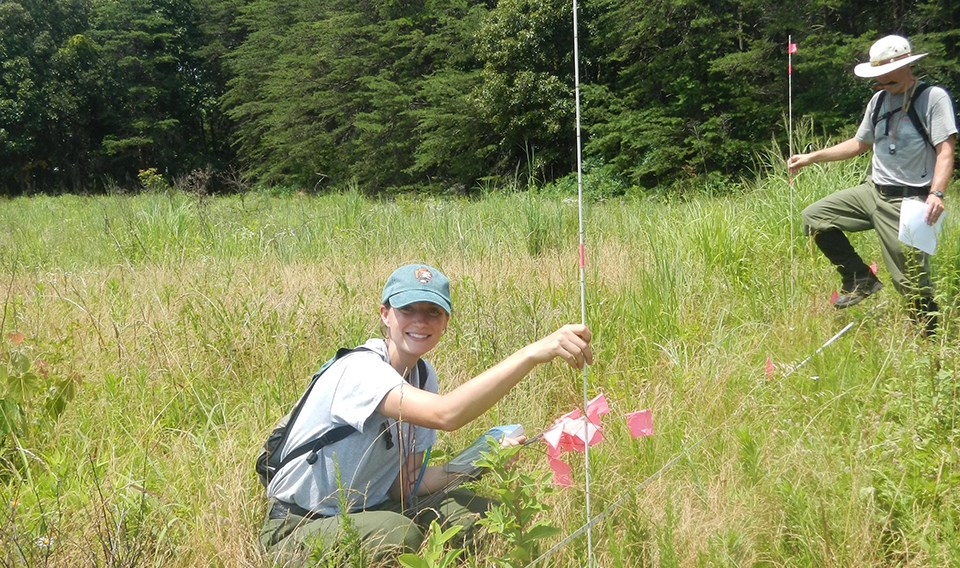 I am currently a graduate student at a university in northern Minnesota. My research assesses post-fire oak and pine regeneration in Shenandoah National Park in Virginia. I worked for three seasons as a fire effects monitor for Shenandoah National Park and the Northeast Region. I really enjoyed the work and enjoyed the fact that the data we collected would have influence on future management decisions. My graduate research is an extension of that and is giving up to date oak and pine information to fire managers.
As a graduate student, some of the great things about conducting research in a national park is hiking, both on trails and in the backcountry. I would complain about it at some points (hello gnats, uphill hiking, thorny vegetation, and hot and humid temperatures), but you get to see some pretty neat stuff spending that much time out in the woods - insects you didn't know existed, birds nesting, and bears getting perhaps a little too close for comfort. The challenges include conducting research in a way that is the least invasive to the environment, which is actually a really great thing and makes one get a bit more creative.
As an NPS employee, I really enjoyed traveling to complete monitoring work. Our crew travelled to Acadia National Park in Maine, to Cumberland Island National Seashore in Georgia, and many places in between. Fire plays an ecological role throughout the entire East Coast, and our crew collected data that determines how effective fire is as a management tool.
NPS and graduate work are also great for learning new skills. As a beginning fire effects monitor, I barely knew how to use a handheld GPS or compass. Now, I love navigating to plots in the backcountry. My GIS skills have massively increased, I've gained my firefighter type 2 certification, and I've been exposed to numerous monitoring protocols from working not only with NPS, but with trainings with the Nature Conservancy, and others. My newest endeavor is learning how to make burn severity maps.

I've always been interested in science and the outdoors and remember my dad taking me and my brothers hiking while my mom had to work on Saturdays when I was really young. From there, I attended nature camps in Cincinnati where I grew up and it was always a highlight of my summer. National parks were not close by, but by visiting outdoor spaces as a kid, my interest piqued and it's then not far to understand how I came to love all parks.
I chose this career field because of the opportunity to use critical thinking, the physical nature of the job, and the beautiful scenery. It is a common occurrence that I get to identify plants, problem solve, hike, and of course, there are often wonderful views.
One of my most interesting experiences in NPS was for two weeks one summer, I was placed on a hotshot crew and we fought fires in Idaho and Utah. That was a great crew and I learned a lot. I've also been able to help a PhD student collect data on fires in Acadia National Park in Maine and install monitoring plots on Cumberland Island National Seashore in Georgia.
My advice to women or girls interested in this field - be confident in your abilities, but request help when needed. Take initiative and ask to be given opportunities, whether that is an opportunity to learn a new skill or complete a task.
Last updated: June 17, 2020