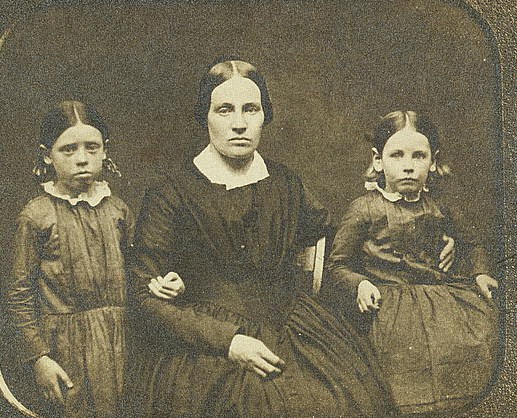 John Brown's Wives
John Brown married twice and had a total of twenty children, nine of whom died in childhood. In 1820, at the age of twenty, Brown married his housekeeper's daughter, Dianthe Lusk. His bride was amiable and quite, deeply religious and, according to Brown had "a most powerful and good influence over him." He cared for her with great gentleness during bouts of mental illness that came more often as she grew older. Brown often stayed up nights watching over his wife with a gentleness his children never forgot. Despite his efforts, she grew worse.
Tragedy struck in 1831 with the death of 4-year-old Frederick. Hardships continued as Brown, himself, fought sickness and fever for months on end. A little over a year after Frederick's death, Brown dug two more graves, this time for his wife and their newborn son. Dianthe was 31 when she died shortly after the birth of her seventh child. She was buried near their home in New Richmond, Pennsylvania.
Brown hired a new housekeeper and was attracted to her sister, Mary Ann Day. They were married in 1833 when Mary Ann was 17. She possessed great physical stamina and was devoted to her responsibilities managing the household and raising the children. She and John had 13 children, but only six survived to adulthood and just four survived their father.
Following Brown's capture, trial, and sentencing, Mary visited him at the jail in Charles Town. On December 1, 1859, they shared a final meal together and Mary returned to her lodging in Harpers Ferry where she waited for her husband's body. She obviously supported Brown's political views for she once asked, "Does it seem as freedom were to gain or lose this? I have had thirteen children, and only 4 are left; but if I am to see the ruin of my house, I cannot but hope that Providence may bring out of it some benefit to the poor slaves."
Mary died on February 29, 1884, at age sixty-seven, following a long illness. She was buried in Madronia Cemetery in Saratoga, California.
The Children