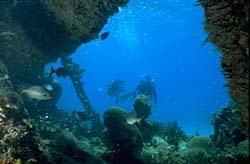 The
Windjammer
is the nickname of an iron-hulled ship-rigged sailing vessel known as the Avanti. It is also known as the "Steel Wreck", the "Dutch Wreck", and the "French Wreck". In 1875, John Reid & Co. constructed the ship in Port Glasgow, Scotland and called in the
Killean
. The ship's first owners were Mackinnon Frew & Co., who sold it to Antoine-Dominique Bordes & Fils of Dunkirk France in 1891. It was renamed the
Antonin
after the owner's son. Although there is no historical evidence, it is safe to assume that the vessel was employed in the Chilean nitrate fertilizer trade. Bordes & Fils was one of the major participants in this industry. When the company purchased a larger, more economical ship in 1901, the
Antonin
was sold to a Norwegian company, Acties Avanti. Acties Avanti was a company owned by C. Zernichow and O. Gotass. The new owners renamed it
Avanti
and sent the vessel to Pensacola. There the lumber export industry was in desperate need of transport ships to carry cargo around the Caribbean.
The
Avanti
sank on Jnauary 22, 1907 as it was transporting lumber from Pensacola to Montevideo, Uruguay. The details of the sinking of the ship are unknown. There are no historical documents on the event. The ship is 261 feet long by 39 feet wide with three masts, two decks, and a cement ballast. The
Avanti
is in excellent condition as a result of iron's resistance to corrosion. There are two main wreckage field. The bow section is oriented east-west and the stern section is aligned north-south.
The Avanti, located within Dry Tortugas National Park, rests at a depth of 22 ft. some 1,100 yards southwest of Loggerhead Key. A laminated trail guide is available for use by divers. Fish and marine fauna are highly visible at the wreck; after the vessel was discovered it was used for biological research before it was examined by underwater archeologists.
Florida's Shipwrecks: 300 Years of Maritime History features a Teaching with Historic Places online lesson plan, The Spanish Treasure Fleets of 1715 and 1733: Disasters Strike at Sea. This lesson plan has been produced by the National Park Service's Teaching with Historic Places program, which offers a series of online classroom-ready lesson plans on registered historic places. To learn more, visit the Teaching with Historic Places home page.