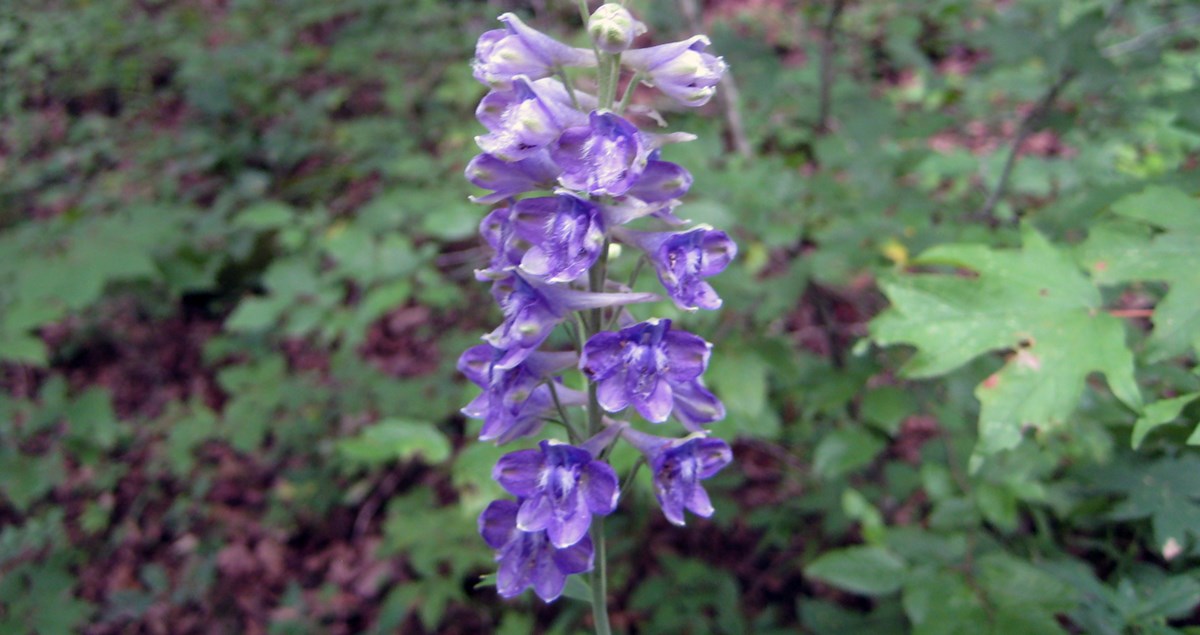 Tall larkspur (Delphinium exaltatum) is a nationally rare, fire-dependent wildflower with beautiful, purplish-blue blossoms that are highly attractive to butterflies and hummingbirds. This unusual species occurs primarily in the Appalachian corridor. The range of the tall larkspur is fragmented and populations that grow in the Missouri Ozarks are more than 400 miles west of the nearest Appalachian population. Because of the separation of the Ozark populations from those of Appalachia, there is great interest in learning more about the ecology of tall larkspur in the Ozarks.
In 2008, local botanists initiated a project to learn more about historical tall larkspur populations on NPS, state, and adjacent private land in the Ozarks. Some populations were discovered to be larger than previously known, and some had declined significantly. Several undocumented populations were also discovered. Most importantly, botanists recognized that tall larkspur in the Ozarks was strongly associated with fire-dependent open woodlands dominated by chinkapin oak.
This discovery prompted the investigation of the species's reaction to prescribed fire, a project that was undertaken by the Missouri Area Park Group Fire Management staff at Ozark National Scenic Riverways (OZAR). OZAR's studies of tall larkspur focused on fire ecology and restoration, particularly for populations growing within prescribed fire units managed by the NPS. Soon after the start of the project, botanists discovered a new tall larkspur colony at OZAR, which is now the largest population under prescribed fire management anywhere, with 3,522 plants.
Using funds available through the 2011 Youth Intern Program, botany intern Abby Hyduke was hired to expand and oversee the tall larkspur study. Analysis of the 2011 post-burn data suggested that tall larkspur was benefiting from prescribed fire. Plant counts from 2011 also indicated that almost 80 percent of the entire Ozark population of tall larkspur occurs within the designated boundary of OZAR.