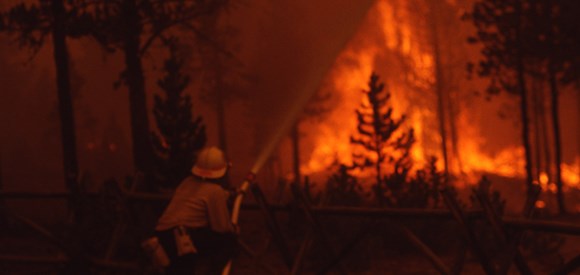 August 20, 2013 – Today marks the 25th anniversary of Black Saturday, the most significant single day of fire growth to occur during the 1988 Yellowstone fires. These were the most significant fires to ever occur in a national park, and an event that would in many ways transform fire management throughout the country.
The 1988 fire season at Yellowstone started out to be fairly typical for that period of time. Over the previous 16 years, Yellowstone had allowed 235 fires to burn under its natural fire policy, and only 15 of these fires were larger than 100 acres. All were extinguished naturally. The summers of 1982 through 1987 were wetter than average, which may have contributed to the relatively low fire activity in those years.
No one anticipated that 1988 would be radically different. In April and May, Yellowstone received higher-than-normal rainfall. But by June, the greater Yellowstone area was experiencing a severe drought. Forest fuels grew progressively drier, and the early summer thunderstorms produced lightning without rain. The fire season began, but still without hint of the record season to come. Eight of 20 early-season fires went out by themselves, two were human-caused and suppressed, and the rest were being monitored in accordance with the existing fire management plan.
The summer of 1988 turned out to be the driest in the park's recorded history. By July 15th, only 18,307 acres had burned in the entire greater Yellowstone area [Fire growth maps, Yellowstone National Park, 1988; Rothermel et al.]. Still, due to continued dry conditions, on July 21st the decision was made to suppress all fires. But within a week, fires within the park alone encompassed nearly 99,000 acres, and by the end of the month, dry fuels and high winds combined to make the larger fires nearly uncontrollable.