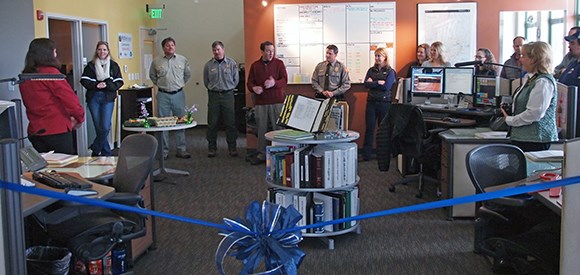 "Expanded [dispatch] has always been far away (14 miles) at the Forest Service office in Jackson. We couldn't meet face to face with them when they had questions. Work will definitely flow more smoothly with them co-located with TIDC."

—Heather McDonald, manager, Teton Interagency Dispatch Center
Grand Teton National Park, Bridger-Teton National Forest
Teton Interagency Dispatch Center (TIDC) dispatchers cut a ribbon on March 8, 2013, to celebrate moving into their long-awaited new facility. The new center, which is on the second floor of the Grand Teton National Park headquarters building, was designed to provide sufficient space for the current staff and temporary detailers who are brought in during the summer season. The new center also boasts amazing views of the Tetons.
The interagency dispatch center, which supports the Bridger-Teton National Forest, Grand Teton National Park, Wyoming State Forestry, and three Wyoming counties, has humble beginnings in a room slightly larger than a closet, where the Grand Teton dispatch office supported park operations, including law enforcement, search and rescue, emergency medical services, structural fire, and maintenance.
In 1994, the dispatch office moved into the park's maintenance building to a space that became known as the "cave." The cave was expanded from one small room to two when the park and forest dispatch operations co-located in 1998. The programs merged in 1999 and Teton Interagency Dispatch Center was born.