Wildland Fire Safety for Park Employees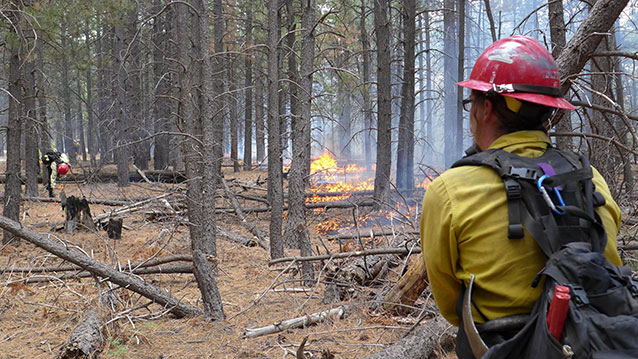 Employee Safety: Safety Is Everyone's Responsibility
The goal of the fire safety and health program is to provide direction and guidance for safe and effective management in all activities. Safety is the responsibility of everyone assigned to wildland fire, and must be practiced at all operational levels from the national fire director, regional director, and superintendent, to employees in the field. Firefighter and public safety always takes precedence over property and resource loss.
Wildland Fire Safety Resources
Lookouts, Communications, Escape Routes, Safety Zones
Known as LCES—these four items MUST be established and known by ALL firefighters BEFORE they are needed.
10 Standard Firefighting Orders & 18 Watch Out Situations
Safety is the first thing a firefighter learns about, and the most important things to remember are the 10 Standard Firefighting Orders and the 18 Watchout Situations, known collectively as the "10 and 18."
Six Minutes for Safety
On a daily basis, Six Minutes for Safety addresses the high-risk situations that historically trouble firefighters.
Wildland Fire Safety and Health Reporting Network
Wildland Fire Safety & Health Reporting Network (SAFENET) is a method for reporting and resolving safety concerns encountered in wildland fire, prescribed fire, or all risk operations.
Wildland Fire Safety Training Annual Refresher (WFSTAR)
The WFSTAR website, updated annually, offers guidance, agency policies, emerging issues, training materials, and topics to assist instructors in preparing to teach annual refresher training.
Fatality Investigations
To learn from past tragedies, the reports, findings, and action plans relating to firefighter fatalities are posted at the WLF fatality investigations page and at the official Fire Lessons Learned Center.
Hazard Tree Safety from the Hazard Tree and Tree Felling Task Group
The intent of this website is to enhance a principle-based approach to managing the risk of hazard trees so firefighters continue to learn and stay safe in the wildland fire environment.
Risk Management Committee—National Wildfire Coordinating Group
Committed to creating a safe work environment for the wildland fire community.
Burn Center Contact List
Current listing of burn care facilities in the United States.
Lessons Learned
Wildland Fire Lessons Learned Center Communities
The wildland fire community uses lessons from the past and present to improve for the future. We are dedicated to sharing the value of your knowledge throughout your community of practice. The Wildland Fire Lessons Learned Center exists to improve safe work performance and organizational learning in interagency wildland fire.
Fitness
Work Capacity Test
Wildland firefighting and other forms of field work demand a high level of fitness to safely perform arduous, day-long work in difficult environmental conditions, including steep terrain, extreme temperatures, altitude, and smoke, and to meet unforeseen emergencies.
FireFit Program
This program was created to provide the interagency wildland fire community with a comprehensive, easy-to-follow fitness program with the ultimate goal of improving firefighter safety and health and reducing injuries.
Fitness Challenge
The national fire operations fitness challenge encourages and recognizes achievement in physical fitness by firefighters. The fitness challenge provides a common system by which firefighters can measure current fitness, establish fitness goals, and track fitness improvement. The fitness challenge is voluntary, but NPS firefighters are encouraged to participate.
Fit to Work
This site describes suitable measures of fitness for wildland firefighters and describes work capacity testing and the pack test, and how to train for the pack test.
Last updated: November 28, 2016