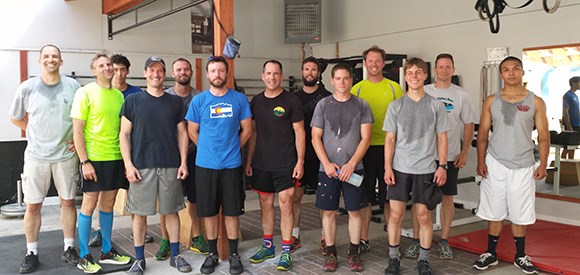 The wildland fire crew at Rocky Mountain National Park culminated "A Week to Remember" by completing an arduous test of fitness called the "Hotshot 19" workout. The wildland fire community designated June 30–July 6, 2014, as "A Week to Remember, Reflect, and Learn" to mark the anniversaries of two tragic fire seasons, 1994 and 2013, as well as to pay respects to all wildland firefighters who have fallen in the line of duty.
June 30 marked the first anniversary of the 2013 Yarnell Hill fire incident in Arizona in which 19 members of the Granite Mountain Interagency Hotshot Crew, sponsored by the Prescott Fire Department, lost their lives in the line of duty. July 6 marked the twentieth anniversary of the 1994 South Canyon fire incident in Colorado in which 14 US Forest Service and Bureau of Land Management wildland firefighters lost their lives.
During A Week to Remember, firefighters discussed lessons learned from these kinds of incidents in hopes that current and next generation firefighters can avoid tragedies in the future.
To honor those lost, the Rocky Mountain National Park fire crew finished the week by partnering with a local CrossFit gym and participated in a grueling CrossFit workout called "Hotshots 19." This workout was specially designed last summer by the CrossFit headquarters to honor those who lost their lives on the Yarnell Hill fire. CrossFit has many "hero workouts" designed to pay tribute to fallen military personnel and other heroes. The hero workouts are meant to be arduous in order to honor the commitment and sacrifice of the people they represent.
The workout consisted of six rounds for time of the following: 30 squats, for the tragedy occurring on June 30; 19 power cleans, for the 19 firefighters lost; 7 strict pull-ups, the standard pull-up number for hotshots; and a 400-meter run.
Contact: Mike Lewelling, fire management officer
Email: Mike_Lewelling@nps.gov
Phone: (970) 586-1287