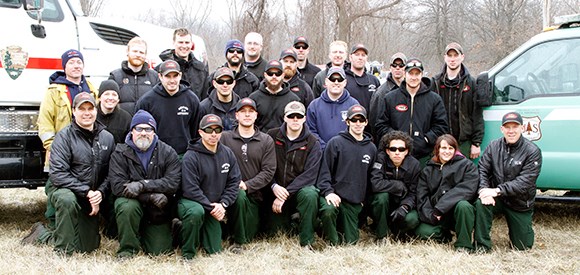 In March 2013, Indiana Dunes National Lakeshore fire management staff and Midewin Interagency Hotshot Crew (IHC) conducted several joint training exercises in preparation for the 2013 fire season.
Since 2010, the two fire programs have been conducting joint annual fire refreshers for their full-time fire staffs. This year the joint refresher training extended to the Midewin IHC's required two-week annual training. On March 15, the entire Midewin IHC traveled to Indiana Dunes for a day of training facilitated by the fire staff of Indiana Dunes National Lakeshore.
The day started with a physical training (PT) session in the dunes along Lake Michigan. After PT, the IHC had a question and answer session with Indiana Dunes Assistant Fire Management Officer MaryEllen Whitenack. This classroom talk gave the newer IHC firefighters a different point of view on fire management, leadership, and how to succeed in their career. The IHC tries to have someone in a leadership or program management role at each unit they go to speak to their crew as part of a season-long professional development program.
After their talk on leadership, the hotshots reviewed a Facilitated Learning Analysis of a tree-felling incident that had recently occurred at Indiana Dunes. The crew visited the area where a tree had fallen on a Indiana Dunes fire staff member, while working on a resource management project in February. The Cowles Bog tree-felling accident provided the hotshots with a chance to learn about the dangers of felling operations in the East. An open discussion about cutting and felling safety and emergency plans for fires and project work followed.
In the afternoon, the crew conducted breakout sessions with the Indiana Dunes staff. Sessions included a team-building exercise based around a mock airplane crash on a desert island and how to survive with limited items, and a skill session on backboarding and carrying out an injured firefighter from the woods. A third breakout station consisted of a crew member using a handheld radio to communicate with other crew members on a UTV. The UTV driver and passenger were blindfolded and had to be guided thru a series of traffic cones over the radio.
The training day concluded with a session on Type 6 and Type 3 engine operations. Hotshots were introduced to the tools, techniques, and procedures unique to engine operations in an urban national park.
This year's preseason training for the two unique yet distinctly Midwestern fire crews has set the stage for many years of continued cooperation on the fireline and in the training room.
Contact: MaryEllen Whitenack, Indiana Dunes assistant fire management officer
Email: e-mail us
Phone: (219) 395-1683
Contact: Nate Hein, Midewin Interagency Hotshot Crew assistant superintendent
Email: e-mail us
Phone: (815) 423-2177