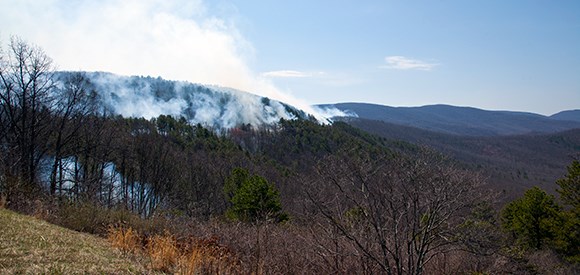 On April 10, 2013, personnel from the Northeast Region completed the 500-acre Jarman Gap prescribed fire at Shenandoah National Park. The objectives of the prescribed fire included the restoration of dry oak and pine communities and the reduction of hazardous fuels in the wildland-urban interface landscape.
Historically, fire frequented the dry southwest slopes of the Appalachian Mountains every three to fifteen years. However, with the advent of aggressive fire suppression tactics beginning in the 1930s, dry oak and pine communities have degraded as fire-intolerant species such as red maple have increased in abundance. Dense brushy undergrowth has resulted in the loss of native forbs and grasses and a decrease in plant diversity. Wildlife, including bear, deer, turkey, and many other bird species, require these open forest communities and the food sources provided by them.
Fire exclusion has also led to an accumulation of forest fuels, potentially increasing wildfire intensity and duration. This is of particular concern to neighbors along the park boundary. The controlled use of fire reduces the buildup of fuels and vegetation and helps protect neighboring communities in the event of a large fire.
A preliminary assessment of the fire effects indicates that the prescribed burn met the primary objectives. The unit contains a mosaic of burn severities, with large patches showing a significant reduction of the highly flammable shrub mountain laurel and midstory fire-intolerant tree species. Patches of unburned areas provide cover for wildlife.
This prescribed burn was a multiagency effort with wildland firefighters and other resources participating from across the region. Firefighters from Acadia National Park, Blue Ridge Parkway, Cape Cod National Seashore, Delaware Water Gap Recreation Area, Kings Mountain National Military Park, New River Gorge National River, Prince William Forest Park, Richmond National Battlefield Park and Shenandoah National Park helped to successfully complete the burn. In addition, the U.S Fish and Wildlife Service provided overhead leadership for a 10-person AmeriCorps crew. Local support was provided by the Dooms and Wilson Fire Departments.
For the first time at Shenandoah National Park, public information officers used social media to communicate information before, during, and after the prescribed burn. Public information officers used Facebook and Twitter to provide up-to-date information to park neighbors and visitors. The park received positive feedback using these communication tools. Eleven fire-related posts were placed on Facebook between March 29 and April 12. During this time, 75,341 people viewed the posts, and 799 'liked' comments posted by the public information officer.
Contact: John Fry, assistant fire management officer, Shenandoah National Park
Email: e-mail us
Phone: (540) 999-3500 ext. 3443