Wildland Fire: First Growing Season Burn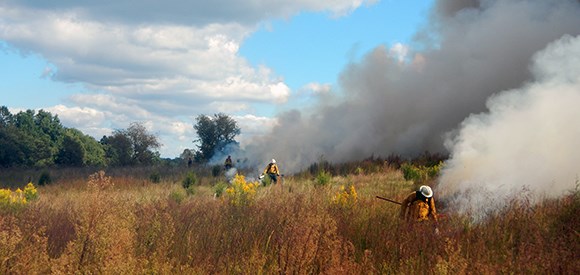 On September 16-17, 2013, fire management staff from Shenandoah National Park used prescribed fire to treat 84 acres in four fields at Appomattox Court House National Historical Park. The park's fields were the site of the Battle of Appomattox Court House on April 9, 1865, which directly led to the surrender of the Army of Northern Virginia under General Robert E. Lee to Lieutenant General Ulysses S. Grant, commander of the Union forces.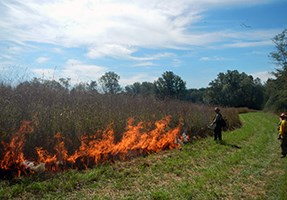 This project had multiple objectives, including the reduction of hazardous fuels, maintenance of the cultural landscape viewshed, and provision of desired habitat for declining populations of field sparrow (Spizella pusilla) and northern bobwhite (Colinus virginianus). Resource managers expanded the prescribed fire program to implement growing season burns after analyzing monitoring results and seeing a decrease in encroaching woody vegetation from the first prescribed fire project in 2009.
The prescribed fire was conducted during the late growing season, when shrubs and trees are preparing for fall senescence by transporting essential nutrients down to their root systems. Burning during this critical time period greatly reduces the energy reserves of the plants and diminishes their vigor and growth potential in the following spring. Prescribed burning is an effective method for woody vegetation control, and it provides resource management staff with better access for the application of herbicide to assist in the control of invasive species and promote the growth of native warm season grasses. Furthermore, the park's unique capital resources, such as structures, monuments, and cemeteries of the Civil War period for which the park was created, are maintained and protected.
The prescribed fire was completed safely with the help of fire resources from the Northeast Region, including Acadia National Park, Delaware Water Gap National Recreation Area, and New River Gorge National River, along with members of the Cumberland Gap Wildland Fire Module from the Southeast Region. This prescribed fire was an excellent example of the utilization of adaptive management to achieve objectives through cooperation, collaboration, and effective communication.
Contact: Missy Forder, fire ecologist, Shenandoah National Park
Email: e-mail us
Phone: (540) 999-3500
Last updated: December 14, 2017