Panoramic Lookout Project Parks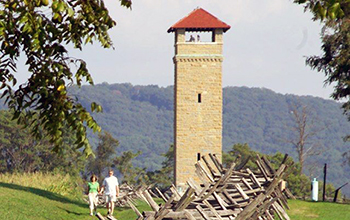 The tables below contain a list of parks and points within parks where a panoramic lookout photo was taken in the 1930s. This is an incomplete list that will be updated as more information becomes available.
Key to Table Headers
Lookout Station: Name of the lookout or lookout point within a park. If a link is provided, there is an online digital version of the image that was taken between 1934 and 1938. Typically, the link will take a user to either NPS Focus or Gigapan's website.
Azimuth Sector: The arc of the horizon viewable in the photograph, typically southwest – 180 to 300 degrees on the compass; north – 300 to 60 degrees on the compass; and southeast – 60 to 180 degrees on the compass. Clicking on the link provided on this header will show a compass image of the area captured in the photograph.
Serial Number: The original 1930s photographer numbered each image that he took. Each image has a unique number to identify it.
Film: Both infrared and panchromatic film was used for the panaramic lookout project, but infrared was more typical. I.R. notes infrared and Pan notes panchromatic film.
Date: Date that original photograph noted in first column was taken. Date utilizes standard mm/dd/yyyy.
Photographer: Person who took original photograph in the 1930s. Many were taken by Lester Moe (L. Moe in the table), but some in the Pacific Northwest were taken by Wernstedt, Clisby, and Osborne as part of the original US Forest Service project.
Retake Date: If a post-1930s photograph was taken in the same location of the same azimuth sector, then the year is noted in this column. If a link is provided, then a digital image is available online of the retake image. Retake images are typically located on the Gigapan website.
Antietam National Park [now called Antietam National Battlefield] – Maryland
Lookout
Station

Azimuth
Sector

Serial
Number

Film

Date

Photographer

Retake
Date

Stone Tower

 

727

Pan

12/30/1935

L. Moe

 

Stone Tower

 

797

Pan

12/30/1935

L. Moe

 

Stone Tower

 

798

Pan

12/30/1935

L. Moe

 

Stone Tower

 

799

Pan

12/30/1935

L. Moe

 
Bandelier National Monument – New Mexico
Lookout
Station

Azimuth
Sector

Serial
Number

Film

Date

Photographer

Retake
Date

Corral Point

69

Pan

11/9/1934

L. Moe

 

Corral Point

70

Pan

11/9/1934

L. Moe

 

Corral Point

71

Pan

11/9/1934

L. Moe

 

Point on Caja Del Rio Grant

67

Pan

11/8/1934

L. Moe

 

Point on Caja Del Rio Grant

68

Pan

11/8/1934

L. Moe

 

Red Knoll

120-240

72

Pan

11/11/1934

L. Moe

 

Red Knoll

240-360

73

Pan

11/11/1934

L. Moe

 
Bryce Canyon National Park – Utah
Lookout
Station

Azimuth
Sector

Serial
Number

Film

Date

Photographer

Retake
Date

Rainbow Point

82

Pan

10/21/1934

L. Moe

 

Rainbow Point

86

Pan

10/21/1934

L. Moe

 

Rainbow Point

83

Pan

10/21/1934

L. Moe

 

Rainbow Point

81

Pan

10/21/1934

L. Moe

 

Rainbow Point

85

Pan

10/21/1934

L. Moe

 

Rainbow Point

84

Pan

10/21/1934

L. Moe

 
California Redwood State Park [later designated Redwood National and State Parks] – California
Lookout
Station

Azimuth
Sector

Serial
Number

Film

Date

Photographer

Retake
Date

Chalk

1276

I.R.

5/26/1937

L. Moe

 

Chalk

1278

I.R.

5/26/1937

L. Moe

 

Chalk

1277

I.R.

5/26/1937

L. Moe

 

Chalk

1279

I.R.

5/26/1937

L. Moe

 
Crater Lake National Park – Oregon
Lookout
Station

Azimuth
Sector

Serial
Number

Film

Date

Photographer

Retake
Date

937

I.R.

6/28/1936

L. Moe

 

936

I.R.

6/28/1936

L. Moe

 

935

I.R.

6/28/1936

L. Moe

 

 

938

I.R.

6/28/1936

L. Moe

 

939

I.R.

6/29/1936

L. Moe

 

 

940

I.R.

6/29/1936

L. Moe

 

941

I.R.

6/29/1936

L. Moe

 

941

I.R.

6/29/1936

L. Moe

 
Gettysburg National Military Park – Pennsylvania
Lookout
Station

Azimuth
Sector

Serial
Number

Film

Date

Photographer

Retake
Date

Oak Ridge

786

Pan

11/11/1935

L. Moe

 

Oak Ridge

787

Pan

11/11/1935

L. Moe

 

Oak Ridge

788

Pan

11/11/1935

L. Moe

 

Oak Ridge

1134

Pan

11/20/1936

L. Moe

 

Oak Ridge

1135

Pan

11/20/1936

L. Moe

 

Oak Ridge

1137

Pan

11/20/1936

L. Moe

 

Round Top

724

Pan

12/20/1935

L. Moe

 

Round Top

725

Pan

12/20/1935

L. Moe

 

Round Top

726

Pan

12/20/1935

L. Moe

 

West Confederate Ave.

789

Pan

12/18/1935

L. Moe

 

West Confederate Ave.

773

Pan

12/18/1935

L. Moe

 

West Confederate Ave.

740

Pan

12/18/1935

L. Moe

 

West Confederate Ave.

1136

Pan

11/20/1936

L. Moe

 

West Confederate Ave.

1128

Pan

11/20/1936

L. Moe

 

West Confederate Ave.

1138

Pan

11/20/1936

L. Moe

 

Zieglers Grove

741

Pan

12/20/1935

L. Moe

 

Zieglers Grove

742

Pan

12/20/1935

L. Moe

 

Zieglers Grove

743

Pan

12/20/1935

L. Moe

 

Zieglers Grove

1129

Pan

11/20/1936

L. Moe

 

Zieglers Grove

1130

Pan

11/20/1936

L. Moe

 

Zieglers Grove

1139

Pan

11/20/1936

L. Moe

 
Glacier National Park – Montana
Lookout
Station

Azimuth
Sector

Serial
Number

Film

Date

Photographer

Retake
Date

Alton Ridge

315

I.R.

8/26/1935

L. Moe

 

Alton Ridge

316

I.R.

8/26/1935

L. Moe

 

Alton Ridge

317

I.R.

8/26/1935

L. Moe

 

Alton Ridge

444

Pan

8/26/1935

L. Moe

 

Alton Ridge

445

Pan

8/26/1935

L. Moe

 

Alton Ridge

394

Pan

8/26/1935

L. Moe

 

Apgar

209

I.R.

7/25/1935

L. Moe

 

Apgar

210

I.R.

7/25/1935

L. Moe

 

Apgar

248

I.R.

7/25/1935

L. Moe

 

Apgar

224

Pan

7/29/1935

L. Moe

 

Apgar

225

Pan

7/29/1935

L. Moe

 

Apgar

226

Pan

7/29/1935

L. Moe

 

Apgar

259

I.R.

7/29/1935

L. Moe

 

Apgar

244

I.R.

7/29/1935

L. Moe

 

Apgar

245

I.R.

7/29/1935

L. Moe

 

Belton Pt.

279

I.R.

8/24/1935

L. Moe

 

Belton Pt.

280

I.R.

8/24/1935

L. Moe

 

Belton Pt.

281

I.R.

8/24/1935

L. Moe

 

Belton Pt.

372

Pan

8/24/1935

L. Moe

 

Belton Pt.

373

Pan

8/24/1935

L. Moe

 
Glacier National Park – Montana, continued…
Lookout
Station

Azimuth
Sector

Serial
Number

Film

Date

Photographer

Retake
Date

Belton Pt.

442

Pan

8/24/1935

L. Moe

 

Bench Mark L.O.

309

I.R.

9/9/1935

L. Moe

 

Bench Mark L.O.

310

I.R.

9/9/1935

L. Moe

 

Bench Mark L.O.

327

I.R.

9/9/1935

L. Moe

 

Bench Mark L.O.

388

Pan

9/9/1935

L. Moe

 

Bench Mark L.O.

389

Pan

9/9/1935

L. Moe

 

Bench Mark L.O.

406

Pan

9/9/1935

L. Moe

 

Burn Photographs

 

407

Pan

9/14/1935

L. Moe

 

Burn Photographs

 

408

Pan

9/14/1935

L. Moe

 

Burn Photographs

 

409

Pan

9/14/1935

L. Moe

 

Burn Photographs

 

436

Pan

9/14/1935

L. Moe

 

Burn Photographs

 

437

Pan

9/14/1935

L. Moe

 

Coal Ridge

328

I.R.

9/12/1935

L. Moe

 

Coal Ridge

329

I.R.

9/12/1935

L. Moe

 

Coal Ridge

330

I.R.

9/12/1935

L. Moe

 

Coal Ridge

398

Pan

9/12/1935

L. Moe

 

Coal Ridge

399

Pan

9/12/1935

L. Moe

 

Coal Ridge

400

Pan

9/12/1935

L. Moe

 

Crosley Ridge

255

I.R.

9/7/1935

L. Moe

 

Crosley Ridge

260

I.R.

9/7/1935

L. Moe

 
Glacier National Park – Montana, continued…
Lookout
Station

Azimuth
Sector

Serial
Number

Film

Date

Photographer

Retake
Date

Crosley Ridge

261

I.R.

9/7/1935

L. Moe

 

Crosley Ridge

221

Pan

9/7/1935

L. Moe

 

Crosley Ridge

223

Pan

9/7/1935

L. Moe

 

Crosley Ridge

222

Pan

9/7/1935

L. Moe

 

Curley Bear

249

I.R.

7/26/1935

L. Moe

 

Curley Bear

250

I.R.

7/26/1935

L. Moe

 

Curley Bear

251

I.R.

7/26/1935

L. Moe

 

Curley Bear

365

Pan

7/26/1935

L. Moe

 

Curley Bear

263

Pan

7/26/1935

L. Moe

 

Curley Bear

364

Pan

7/26/1935

L. Moe

 

Cyclone Pk.

323

I.R.

9/14/1935

L. Moe

 

Cyclone Pk.

324

I.R.

9/14/1935

L. Moe

 

Cyclone Pk.

325

I.R.

9/14/1935

L. Moe

 

Cyclone Pk.

401

Pan

9/14/1935

L. Moe

 

Cyclone Pk.

435

Pan

9/14/1935

L. Moe

 

Cyclone Pk.

434

Pan

9/14/1935

L. Moe

 

Demers Ridge

314

I.R.

9/4/1935

L. Moe

 

Demers Ridge

299

I.R.

9/4/1935

L. Moe

 

Demers Ridge

301

I.R.

9/4/1935

L. Moe

 

Demers Ridge

402

Pan

9/4/1935

L. Moe

 
Glacier National Park – Montana, continued…
Lookout
Station

Azimuth
Sector

Serial
Number

Film

Date

Photographer

Retake
Date

Demers Ridge

403

Pan

9/4/1935

L. Moe

 

Demers Ridge

404

Pan

9/4/1935

L. Moe

 

Demers Ridge

60-181

300

I.R.

9/4/1935

L. Moe

 

Desert Mt.

277

I.R.

8/24/1935

L. Moe

 

Desert Mt.

278

I.R.

8/24/1935

L. Moe

 

Desert Mt.

282

I.R.

8/24/1935

L. Moe

 

Desert Mt.

371

Pan

8/24/1935

L. Moe

 

Desert Mt.

370

Pan

8/24/1935

L. Moe

 

Desert Mt.

443

Pan

8/24/1935

L. Moe

 

Divide Mt.

252

I.R.

8/3/1935

L. Moe

 

Divide Mt.

253

I.R.

8/3/1935

L. Moe

 

Divide Mt.

254

I.R.

8/3/1935

L. Moe

 

Divide Mt.

356

Pan

8/3/1935

L. Moe

 

Divide Mt.

357

Pan

8/3/1935

L. Moe

 

Divide Mt.

220

Pan

8/3/1935

L. Moe

 

Elk Mt.

241

I.R.

7/31/1935

L. Moe

 

Elk Mt.

242

I.R.

7/31/1935

L. Moe

 

Elk Mt.

243

I.R.

7/31/1935

L. Moe

 

Elk Mt.

238

Pan

7/31/1935

L. Moe

 

Elk Mt.

239

Pan

7/31/1935

L. Moe

 
Glacier National Park – Montana, continued…
Lookout
Station

Azimuth
Sector

Serial
Number

Film

Date

Photographer

Retake
Date

Elk Mt.

355

Pan

7/31/1935

L. Moe

 

Elk Mt.

354

Pan

7/31/1935

L. Moe

 

Gary L.O.

203

I.R.

7/18/1935

L. Moe

 

Gary L.O.

204

I.R.

7/18/1935

L. Moe

 

Gary L.O.

205

I.R.

7/18/1935

L. Moe

 

Gary L.O.

200

Pan

7/18/1935

L. Moe

 

Gary L.O.

201

Pan

7/18/1935

L. Moe

 

Gary L.O.

206

I.R.

7/18/1935

L. Moe

 

Glacier Park Garage

326

I.R.

9/17/1935

L. Moe

 

Glacier Park Garage

433

Pan

9/17/1935

L. Moe

 

Glacier Park Garage

431

Pan

9/17/1935

L. Moe

 

Glacier Park Garage

432

Pan

9/17/1935

L. Moe

 

Goat Haunt Mt.

262

I.R.

8/12/1935

L. Moe

 

Goat Haunt Mt.

283

I.R.

8/12/1935

L. Moe

 

Goat Haunt Mt.

284

I.R.

8/12/1935

L. Moe

 

Goat Haunt Mt.

350

Pan

8/12/1935

L. Moe

 

Goat Haunt Mt.

351

Pan

8/12/1935

L. Moe

 

Goat Haunt Mt.

352

Pan

8/12/1935

L. Moe

 

Goat Haunt Mt.

285

I.R.

8/12/1935

L. Moe

 

Goat Haunt Mt.

353

Pan

8/12/1935

L. Moe

 
Glacier National Park – Montana, continued…
Lookout
Station

Azimuth
Sector

Serial
Number

Film

Date

Photographer

Retake
Date

Hornet Mt.

295

I.R.

9/7/1935

L. Moe

 

Hornet Mt.

296

I.R.

9/7/1935

L. Moe

 

Hornet Mt.

302

I.R.

9/7/1935

L. Moe

 

Hornet Mt.

405

Pan

9/7/1935

L. Moe

 

Hornet Mt.

414

Pan

9/7/1935

L. Moe

 

Hornet Mt.

415

Pan

9/7/1935

L. Moe

 

Huckleberry Mt.

246

I.R.

7/30/1935

L. Moe

 

Huckleberry Mt.

247

I.R.

7/30/1935

L. Moe

 

Huckleberry Mt.

240

I.R.

7/30/1935

L. Moe

 

Huckleberry Mt.

227

Pan

7/30/1935

L. Moe

 

Huckleberry Mt.

236

Pan

7/30/1935

L. Moe

 

Huckleberry Mt.

237

Pan

7/30/1935

L. Moe

 

Hudson Bay

286

I.R.

8/20/1935

L. Moe

 

Hudson Bay

287

I.R.

8/20/1935

L. Moe

 

Hudson Bay

288

I.R.

8/20/1935

L. Moe

 

Hudson Bay

426

Pan

8/20/1935

L. Moe

 

Hudson Bay

427

Pan

8/20/1935

L. Moe

 

Hudson Bay

428

Pan

8/20/1935

L. Moe

 

Hudson Bay

1232

I.R.

6/25/1937

L. Moe

 

Hudson Bay

1241

I.R.

6/25/1937

L. Moe

 
Glacier National Park – Montana, continued…
Lookout
Station

Azimuth
Sector

Serial
Number

Film

Date

Photographer

Retake
Date

Hudson Bay

1242

I.R.

6/25/1937

L. Moe

 

Indian Ridge

207

I.R.

7/21/1935

L. Moe

 

Indian Ridge

208

I.R.

7/21/1935

L. Moe

 

Indian Ridge

349

Pan

7/21/1935

L. Moe

 

Indian Ridge

363

Pan

7/21/1935

L. Moe

 

Indian Ridge

362

Pan

7/21/1935

L. Moe

 

Loneman Mt.

257

I.R.

8/21/1935

L. Moe

 

Loneman Mt.

270

I.R.

8/21/1935

L. Moe

 

Loneman Mt.

269

I.R.

8/21/1935

L. Moe

 

Loneman Mt.

425

Pan

8/21/1935

L. Moe

 

Loneman Mt.

374

Pan

8/21/1935

L. Moe

 

Loneman Mt.

375

Pan

8/21/1935

L. Moe

 

Loneman Mt.

268

I.R.

8/21/1935

L. Moe

 

Looking Glass

1229

I.R.

6/25/1937

L. Moe

 

Looking Glass

1230

I.R.

6/25/1937

L. Moe

 

Looking Glass

1231

I.R.

6/25/1937

L. Moe

 

McGinnis Ridge

321

I.R.

9/1/1935

L. Moe

 

McGinnis Ridge

322

I.R.

9/1/1935

L. Moe

 

McGinnis Ridge

303

I.R.

9/1/1935

L. Moe

 

McGinnis Ridge

413

Pan

9/1/1935

L. Moe

 
Glacier National Park – Montana, continued…
Lookout
Station

Azimuth
Sector

Serial
Number

Film

Date

Photographer

Retake
Date

McGinnis Ridge

390

Pan

9/1/1935

L. Moe

 

McGinnis Ridge

391

Pan

9/1/1935

L. Moe

 

Milk Ridge

289

I.R.

8/20/1935

L. Moe

 

Milk Ridge

331

I.R.

8/20/1935

L. Moe

 

Milk Ridge

290

I.R.

8/20/1935

L. Moe

 

Milk Ridge

429

Pan

8/20/1935

L. Moe

 

Milk Ridge

419

Pan

8/20/1935

L. Moe

 

Milk Ridge

418

Pan

8/20/1935

L. Moe

 

Mt. Brown

272

I.R.

8/22/1935

L. Moe

 

Mt. Brown

271

I.R.

8/22/1935

L. Moe

 

Mt. Brown

273

I.R.

8/22/1935

L. Moe

 

Mt. Brown

376

Pan

8/22/1935

L. Moe

 

Mt. Brown

377

Pan

8/22/1935

L. Moe

 

Mt. Brown

378

Pan

8/22/1935

L. Moe

 

Mt. Reynolds

274

I.R.

8/23/1935

L. Moe

 

Mt. Reynolds

276

I.R.

8/23/1935

L. Moe

 

Mt. Reynolds

275

I.R.

8/23/1935

L. Moe

 

Mt. Reynolds

379

Pan

8/23/1935

L. Moe

 

Mt. Reynolds

380

Pan

8/23/1935

L. Moe

 

Mt. Reynolds

381

Pan

8/23/1935

L. Moe

 
Glacier National Park – Montana, continued…
Lookout
Station

Azimuth
Sector

Serial
Number

Film

Date

Photographer

Retake
Date

Nine Mile L.O.

318

I.R.

8/30/1935

L. Moe

 

Nine Mile L.O.

319

I.R.

8/30/1935

L. Moe

 

Nine Mile L.O.

320

I.R.

8/30/1935

L. Moe

 

Nine Mile L.O.

410

Pan

8/30/1935

L. Moe

 

Nine Mile L.O.

411

Pan

8/30/1935

L. Moe

 

Nine Mile L.O.

412

Pan

8/30/1935

L. Moe

 

Ousel Pk.

291

I.R.

9/18/1935

L. Moe

 

Ousel Pk.

292

I.R.

9/18/1935

L. Moe

 

Ousel Pk.

294

I.R.

9/18/1935

L. Moe

 

Ousel Pk.

382

Pan

9/18/1935

L. Moe

 

Ousel Pk.

383

Pan

9/18/1935

L. Moe

 

Ousel Pk.

385

Pan

9/18/1935

L. Moe

 

Ousel Pk.

293

I.R.

9/18/1935

L. Moe

 

Roadside No. 1

342

Pan

7/19/1935

L. Moe

 

Roadside No. 1

343

Pan

7/19/1935

L. Moe

 

Roadside No. 2

344

Pan

7/19/1935

L. Moe

 

Roadside No. 2

345

Pan

7/19/1935

L. Moe

 

Roadside No. 3

358

Pan

7/19/1935

L. Moe

 

Roadside No. 3

359

Pan

7/19/1935

L. Moe

 

Roadside No. 3

348

Pan

7/19/1935

L. Moe

 
Glacier National Park – Montana, continued…
Lookout
Station

Azimuth
Sector

Serial
Number

Film

Date

Photographer

Retake
Date

Roadside No. 4

361

Pan

7/19/1935

L. Moe

 

Roadside No. 4

360

Pan

7/19/1935

L. Moe

 

Roadside No. 5

346

Pan

7/19/1935

L. Moe

 

Roadside No. 5

347

Pan

7/19/1935

L. Moe

 

Roadside No. 6

338

I.R.

8/20/1935

L. Moe

 

Roadside No. 6

422

Pan

8/20/1935

L. Moe

 

Roadside No. 6

423

Pan

8/20/1935

L. Moe

 

Roadside No. 6

424

Pan

8/20/1935

L. Moe

 

Scaplock Mt

256

I.R.

7/27/1935

L. Moe

 

Scaplock Mt

257

I.R.

7/27/1935

L. Moe

 

Scaplock Mt

258

I.R.

7/27/1935

L. Moe

 

Scaplock Mt

264

Pan

7/27/1935

L. Moe

 

Scaplock Mt

265

Pan

7/27/1935

L. Moe

 

Scaplock Mt

266

Pan

7/27/1935

L. Moe

 

Sherbern Lake

335

I.R.

8/20/1935

L. Moe

 

Sherbern Lake

336

I.R.

8/20/1935

L. Moe

 

Sherbern Lake

337

I.R.

8/20/1935

L. Moe

 

Sherbern Lake

439

Pan

8/20/1935

L. Moe

 

Sherbern Lake

440

Pan

8/20/1935

L. Moe

 

Sherbern Lake

441

Pan

8/20/1935

L. Moe

 
Glacier National Park – Montana, continued…
Lookout
Station

Azimuth
Sector

Serial
Number

Film

Date

Photographer

Retake
Date

Smokey

304

I.R.

8/3/1935

L. Moe

 

Smokey

305

I.R.

8/3/1935

L. Moe

 

Smokey

306

I.R.

8/3/1935

L. Moe

 

Smokey

392

Pan

8/3/1935

L. Moe

 

Smokey

392

Pan

8/3/1935

L. Moe

 

Smokey

366

Pan

8/3/1935

L. Moe

 

Standard Pk.

311

I.R.

8/3/1935

L. Moe

 

Standard Pk.

312

I.R.

8/3/1935

L. Moe

 

Standard Pk.

313

I.R.

8/3/1935

L. Moe

 

Standard Pk.

367

Pan

8/3/1935

L. Moe

 

Standard Pk.

368

Pan

8/3/1935

L. Moe

 

Standard Pk.

369

Pan

8/3/1935

L. Moe

 

Swiftcurrent Mt.

339

I.R.

8/27/1935

L. Moe

 

Swiftcurrent Mt.

340

I.R.

8/27/1935

L. Moe

 

Swiftcurrent Mt.

341

I.R.

8/27/1935

L. Moe

 

Swiftcurrent Mt.

395

Pan

8/27/1935

L. Moe

 

Swiftcurrent Mt.

396

Pan

8/27/1935

L. Moe

 

Swiftcurrent Mt.

397

Pan

8/27/1935

L. Moe

 

Toma Mt.

298

I.R.

9/8/1935

L. Moe

 

Toma Mt.

307

I.R.

9/8/1935

L. Moe

 
Glacier National Park – Montana, continued…
Lookout
Station

Azimuth
Sector

Serial
Number

Film

Date

Photographer

Retake
Date

Toma Mt.

308

I.R.

9/8/1935

L. Moe

 

Toma Mt.

417

Pan

9/8/1935

L. Moe

 

Toma Mt.

386

Pan

9/8/1935

L. Moe

 

Toma Mt.

387

Pan

9/8/1935

L. Moe

 

Two Medecine

332

I.R.

8/20/1935

L. Moe

 

Two Medecine

334

I.R.

8/20/1935

L. Moe

 

Two Medecine

333

I.R.

8/20/1935

L. Moe

 

Two Medecine

420

Pan

8/20/1935

L. Moe

 

Two Medecine

421

Pan

8/20/1935

L. Moe

 

Two Medecine

438

Pan

8/20/1935

L. Moe

 

Wedge Mt.

0-120

297

I.R.

9/7/1935

L. Moe

 

Wedge Mt.

0-120

416

Pan

9/7/1935

L. Moe

 
Grand Canyon National Park – Arizona
Lookout
Station

Azimuth
Sector

Serial
Number

Film

Date

Photographer

Retake
Date

Grand View

111

Pan

10/27/1934

L. Moe

 

Grand View

113

Pan

10/27/1934

L. Moe

 

Grand View

115

Pan

10/27/1934

L. Moe

 

Grand View

112

Pan

10/27/1934

L. Moe

 

Grand View

114

Pan

10/27/1934

L. Moe

 

Grand View

116

Pan

10/27/1934

L. Moe

 

Hopi Tower

94

Pan

10/24/1934

L. Moe

 

Hopi Tower

96

Pan

10/24/1934

L. Moe

 

Hopi Tower

97

Pan

10/24/1934

L. Moe

 

Hopi Tower

93

Pan

10/24/1934

L. Moe

 

Hopi Tower

95

Pan

10/24/1934

L. Moe

 

Hopi Tower

98

Pan

10/24/1934

L. Moe

 

Indian Watch Tower

106

Pan

10/26/1934

L. Moe

 

Indian Watch Tower

108

Pan

10/26/1934

L. Moe

 

Indian Watch Tower

110

Pan

10/26/1934

L. Moe

 

Indian Watch Tower

105

Pan

10/26/1934

L. Moe

 

Indian Watch Tower

107

Pan

10/26/1934

L. Moe

 

Indian Watch Tower

109

Pan

10/26/1934

L. Moe

 

North Rim Lookout

87

Pan

10/22/1934

L. Moe

 

North Rim Lookout

90

Pan

10/22/1934

L. Moe

 
Grand Canyon National Park – Arizona, continued…
Lookout
Station

Azimuth
Sector

Serial
Number

Film

Date

Photographer

Retake
Date

North Rim Lookout

91

Pan

10/22/1934

L. Moe

 

North Rim Lookout

88

Pan

10/22/1934

L. Moe

 

North Rim Lookout

89

Pan

10/22/1934

L. Moe

 

North Rim Lookout

92

Pan

10/22/1934

L. Moe

 

Signal Hill

100

Pan

10/25/1934

L. Moe

 

Signal Hill

102

Pan

10/25/1934

L. Moe

 

Signal Hill

103

Pan

10/25/1934

L. Moe

 

Signal Hill

99

Pan

10/25/1934

L. Moe

 

Signal Hill

101

Pan

10/25/1934

L. Moe

 

Signal Hill

104

Pan

10/25/1934

L. Moe

 
North Cascades National Park – Washington
Lookout
Station

Azimuth
Sector

Serial
Number

Film

Date

Photographer

Retake
Date

Crater Mountain

6227

 

8/9/1935

Wernstedt

 

Crater Mountain

6228

 

8/9/1935

Wernstedt

 

Crater Mountain

6231

 

8/9/1935

Wernstedt

 

Hidden Lake

6371

 

8/24/1935

Wernstedt

 

Hidden Lake

6373

 

8/24/1935

Wernstedt

 

Hidden Lake

6751

 

8/27/1935

Wernstedt

 

Copper Mountain

7025

 

9/25/1935

Wernstedt

 

Copper Mountain

7026

 

9/25/1935

Wernstedt

 

Copper Mountain

7029

 

9/25/1935

Wernstedt

 

Desolation PK

6221

 

8/2/1935

Wernstedt

 

Desolation PK

6222

 

8/2/1935

Wernstedt

 

Desolation PK

6224

 

8/2/1935

Wernstedt

 

Devil's Dome

6216

 

9/7/1935

Wernstedt

 

Devil's Dome

6215

 

9/7/1935

Wernstedt

 

Devil's Dome

6219

 

9/7/1935

Wernstedt

 

Devil's Dome

6218

 

9/7/1935

Wernstedt

 

Bacon Pt.

6518

 

7/20/1935

Wernstedt

 

Bacon Pt.

6520

 

7/20/1935

Wernstedt

 

Bacon Pt.

6523

 

7/20/1935

Wernstedt

 

Easy Ridge

7020

 

9/26/1935

Wernstedt

 
North Cascades National Park – Washington
Lookout
Station

Azimuth
Sector

Serial
Number

Film

Date

Photographer

Retake
Date

Easy Ridge

7021

 

9/27/1935

Wernstedt

 

Easy Ridge

7020

 

9/26/1935

Wernstedt

 

Easy Ridge

7019

 

9/26/1935

Wernstedt

 

Sourdough Mountain

7048

 

9/25/1935

CLISBY

 

Sourdough Mountain

7052

 

9/25/1935

CLISBY

 

Sourdough Mountain

7051

 

9/25/1935

CLISBY

 
Olympic National Park – Washington
Lookout
Station

Azimuth
Sector

Serial
Number

Film

Date

Photographer

Retake
Date

Bogachiel

917

I.R.

7/30/1936

L. Moe

 

Bogachiel

907

I.R.

7/30/1936

L. Moe

 

Bogachiel

918

I.R.

7/30/1936

L. Moe

 

Deer Park

6004

I.R.

6/21/1935

CLISBY

 

Deer Park

6006

I.R.

6/21/1935

CLISBY

 

Deer Park

6005

I.R.

7/21/1935

CLISBY

 

Dodger Pt

922

I.R.

7/26/1936

L. Moe

 

Dodger Pt

916

I.R.

7/26/1936

L. Moe

 

Dodger Pt

915

I.R.

7/26/1936

L. Moe

 

Ennis Guard St

 

 

 

 
 

Ennis Guard St

 

 

 

 
 

Ennis Guard St

 

 

 

 
 

Hurricane

6401

I.R.

8/25/1935

OSBORNE

 

Hurricane

6408

I.R.

8/25/1935

OSBORNE

 

Hurricane

6403

I.R.

8/25/1935

OSBORNE

 

Mt. Steel

909

I.R.

8/2/1936

L. Moe

 

Mt. Steel

911

I.R.

8/2/1936

L. Moe

 

Mt. Steel

910

I.R.

8/2/1936

L. Moe

 

Mt. Dickinson

912

I.R.

8/3/1936

L. Moe

 

Mt. Dickinson

914

I.R.

8/3/1936

L. Moe

 

Mt. Dickinson

913

I.R.

8/3/1936

L. Moe

 
Rocky Mountain National Park – Colorado
Lookout
Station

Azimuth
Sector

Serial
Number

Film

Date

Photographer

Retake
Date

Fall River

 

 

 

 

 

 

Farview Curve

 

 

 

 

 

 

Many Parks Curve

 

 

 

 

 

 

Meadow Mountain

 

 

 

 

 

 

Mt. Dickinson

 

 

 

 

 

 

Mt. Dickinson (E. Point)

 

 

 

 

 

 

Rainbow Curve

 

 

 

 

 

 

Shadow Mountain

 

 

 

 

 

 

Trail Ridge

 

 

 

 

 

 

Twin Sisters

 

 

 

 

 

 

Twin Sisters #2

 

 

 

 

 

 
Wind Cave National Park – South Dakota
Lookout
Station

Azimuth
Sector

Serial
Number

Film

Date

Photographer

Retake
Date

Cicero

 

 

 

 

 

 

Elk Mountain

 

 

 

 

 

 

Harney Peak

 

 

 

 

 

 

Mt. Coolidge

 

 

 

 

 

 

Quary Ridge

 

 

 

 

 

 

Utility Area

 

 

 

 

 

 
Yellowstone National Park – Wyoming
Lookout
Station

Azimuth
Sector

Serial
Number

Film

Date

Photographer

Retake
Date

Beckler River

 

 

 

 

 

 

Buffalo Plateau

 

 

 

 

 

 

504

I.R.

6/18/1935

L. Moe

505

I.R.

6/18/1935

L. Moe

1042

I.R.

8/19/1936

L. Moe

Galatin

495

I.R.

7/13/1935

L. Moe

2008

Galatin

500

I.R.

7/13/1935

L. Moe

2008

Galatin

 

I.R.

7/13/1935

L. Moe

2008

Mt. Holmes

 

I.R.

 

L. Moe

513

I.R.

6/27/1935

L. Moe

514

I.R.

6/27/1935

L. Moe

Mt. Norris

 

 

 

 

 

 

1022

I.R.

8/28/1936

L. Moe

1026

I.R.

8/28/1936

L. Moe

1028

I.R.

8/28/1936

L. Moe

Mt. Sheridan (No. 2)

 

 

 

 

 

 

493

I.R.

7/10/1935

L. Moe

494

I.R.

7/10/1935

L. Moe

429

I.R.

7/10/1935

L. Moe

527

I.R.

6/22/1935

L. Moe

526

I.R.

6/22/1935

L. Moe

Observation Peak

496

I.R.

6/22/1936

L. Moe

Pelican Cone (No. 1)

1058

I.R.

8/25/1936

L. Moe

 

Pelican Cone (No. 1)

1019

I.R.

8/25/1936

L. Moe

 

Pelican Cone (No. 1)

1021

I.R.

8/25/1936

L. Moe

 

Pelican Cone (No. 2)

 

 

 

 

 

 

Pitchstone Plateau

 

 

 

 

 

 

Purple Mountain

515

I.R.

7/2/1935

L. Moe

516

I.R.

7/2/1935

L. Moe

517

I.R.

7/2/1935

L. Moe

Saddle Mountain

1048

I.R.

8/21/1936

L. Moe

2008

Saddle Mountain

1049

I.R.

8/21/1936

L. Moe

2008

Saddle Mountain

1050

I.R.

8/21/1936

L. Moe

2008

Saddle Mountain (W. Point)

1055

I.R.

8/21/1936

L. Moe

2008

Saddle Mountain (W. Point)

1057

I.R.

8/21/1936

L. Moe

2008

Saddle Mountain (W. Point)

1056

I.R.

8/21/1936

L. Moe

2008

520

I.R.

7/8/1935

L. Moe

521

I.R.

7/8/1935

L. Moe

550

Pan

7/8/1935

L. Moe

West Yellowstone

 

 

 

 

 

 
Series: Panoramic Project Shows How National Parks Change Over Time
Last updated: July 22, 2020