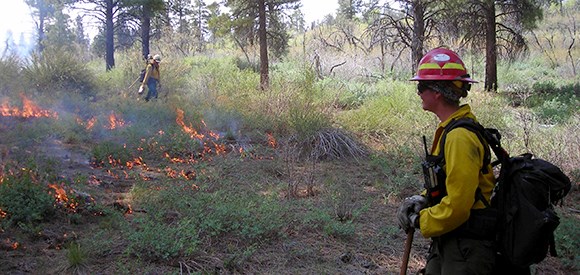 Wildland Fire Modules (WFMs) are highly skilled and versatile fire crews. They provide technically and ecologically based expertise in the areas of long-term planning, ignitions, holding, prescribed fire preparation and implementation support, hazardous fuels reduction, and fire effects monitoring. With their help, fire fulfills its natural or historic role to meet resource and management objectives.
Staffed, equipped, and qualified to meet a variety of planning and tactical wildland fire assignments, WFMs can be used to produce technical burn plans for fire managers in need of prescribed fire planning. Staff from the modules can also fill needed overhead positions and serve as ground personnel to independently or cooperatively manage prescribed fire incidents. In addition, they provide a high level of expertise in the use of fire on the landscape as a resource management tool.
When not committed to planned or unplanned fire assignments, WFMs can provide a workforce to accomplish a variety of resource management objectives, such as hazardous fuels reduction planning, while maintaining availability for incident mobilization.
In 2013, the Saguaro Wildland Fire Module (WFM) consistently demonstrated versatility throughout the year, including managing multiple projects simultaneously within Arizona, Texas, and New Mexico.
The Saguaro WFM completed 437 defensible space structure assessments at Casa Grande Ruins NM, Carlsbad NP, Gila Cliff Dwellings NM, and White Sands NM in New Mexico; and at Amistad NRA, Chamizal NM, Guadalupe Mountains NP, Lyndon B. Johnson NHP, Padre Islands NS, Palo Alto Battlefield NHP, and San Antonio Missions NHP in Texas.
The module also completed four mechanical fuels reduction projects at Montezuma Castle NM and Tumacacori NHP in Arizona, treating 12 acres total.
In addition, the module supported two planned National Park Service Intermountain Region fires totaling 3,000 acres: the Thompson prescribed fire at Grand Canyon National Park, Arizona, and the Clear Trap prescribed fire at Zion National Park, Utah.
They also assisted in the preparation of two prescribed burn plans for Navajo NM and Tumacacori NHP in Arizona, and a mechanical fuels plan for Hovenweep NM in Colorado.
Additional interagency assignments on planned fires included the Lower Soldier and Bigelow piles prescribed fires on the Coronado National Forest in Arizona.
The 2013 accomplishments of the module were invaluable to the National Park Service Intermountain Region. By reducing hazards through prescribed burning and other fuel reduction projects, they helped to keep the public and resources of the national parks safe regionwide.
Contact: Jason Thivener, wildland fire module leader
Email: e-mail us
Phone: (520) 733-5167