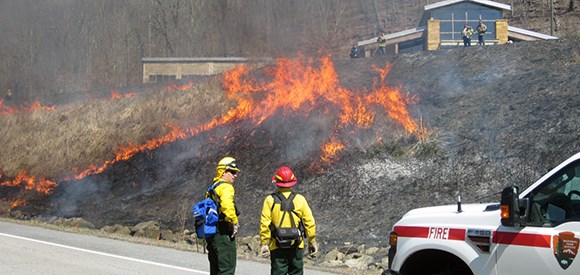 On April 3, 2013, staff at New River Gorge National River, with assistance from the West Virginia Division of Forestry, Green Sulphur District Volunteer Fire Department, and Notre Dame College student volunteers, conducted the annual grassland prescribed fire at Sandstone Visitor Center.
Sandstone Visitor Center, one of two primary park visitor centers, opened in 2003. It was built using "green" design and construction methods, and uses 50% less energy than typical buildings of comparable size. Exhibits educate visitors about the importance of protecting the environment and the regional watersheds. The visitor center is landscaped with native plants that require no supplemental irrigation and provide habitat for native plant and animal species. The open grasslands surrounding the visitor center are especially important for several species of grassland birds. This habitat type, which provides essential nesting and foraging areas, is quickly disappearing from the area due to development and succession to forest. In addition to habitat loss, native plants are threatened by invasive, exotic species. Without an integrated management approach, invasive species such as crown vetch quickly outcompete and exclude native grasses.
The prescribed fire at Sandstone Visitor Center successfully removed vegetation and controlled the encroachment of woody species into the open grasslands. In the past, park maintenance staff attempted to use mechanical mowing; however, the steep slopes don't allow safe operation of the equipment. Prescribed burning is an effective method for vegetation control, and allows the resource management division better access for the application of herbicide to assist in the control of invasive, exotic species.
Preparation of the unit prior to ignition contributed to the success of this burn. As part of their yearly pilgrimage to the park, students from Notre Dame College assisted with the preparation of the burn unit by clearing dead material from areas populated by sensitive plant species, and from around signs and culverts. Led by Crew Boss Mark Bollinger, their efforts allowed firefighters to more easily control the burn during ignition operations. This effort was vital to the success of the project.
Contact: Peggy Ainslie, fire operations specialist, New River Gorge National River
E-mail: e-mail us
Phone:(304) 456-6529